Kate Hudson Replacing Rebel Wilson In 'Kung Fu Panda 3'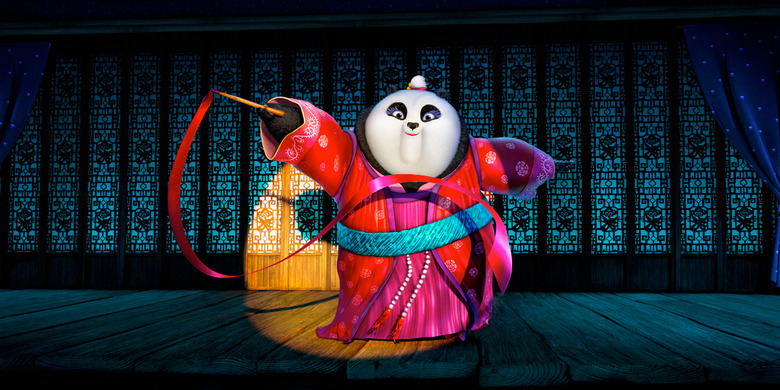 Normally voice casting for animated movies is done far in advance, mostly because sometimes the performance from each actor voicing the characters informs how the animators will bring the character to life. And because voice recording is done in advance, it's a rarity to hear of someone being replaced with just under five months before the film's release.
But that's exactly what's happening with Kung Fu Panda 3. Previously, Pitch Perfect star Rebel Wilson was slated to voice a character named Mei Mei, a ribbon-dancing panda who is romantically obsessed with Po. However, Almost Famous star Kate Hudson has now been hired to replace her on the film.
THR has the report of Hudson stepping up in place of Wilson, and they say the production schedule for the movie was extended, which unfortunately led to Rebel Wilson having to bow out. That seems a little odd when all the voice recording should be done by now, but maybe they're making some changes in the later phases of production and Wilson has another project that would conflict with the schedule. Either way, Kate Hudson joins Kung Fu Panda 3 at a time when animation will need to be changed to reflect her performance.
The problem is these stories of actors being replaced will often cite scheduling conflict to help the actor or actress save face, so the public won't know because the performance wasn't working for some reason. That's not always the case, but it does happen frequently. Just recently Bruce Willis was replaced on Woody Allen's new film by Steve Carell, and while scheduling was the reason given for the switch, Willis was already working on the film, so it clearly fit into his schedule.
Anyway, Here's Kate Hudson on Instagram making the news official too:
Mei Mei will be the first lead female panda that we'll see in the Kung Fu Panda franchise. In fact, with the exception of Po (Jack Black), we haven't seen many pandas in the movie. But once Po meets his long-lost father (Bryan Cranston), he finds a paradise full of pandas just like him.
The rest of the cast also includes the return of Jackie Chan, Lucy Liu, Angelina Jolie, David Cross, Seth Rogen and Dustin Hoffman. Meanwhile, Oscar-winner J.K. Simmons is one of the other new additions as the film's villain. You can watch the previous trailer for the sequel right here.
When Po's long-lost panda father suddenly reappears, the reunited duo travels to a secret panda paradise to meet scores of hilarious new panda characters. But when the supernatural villain Kai begins to sweep across China defeating all the kung fu masters, Po must do the impossible—learn to train a village full of his fun-loving, clumsy brethren to become the ultimate band of Kung Fu Pandas!
Kung Fu Panda 3 hits theaters on January 29th, 2016.