Barry Sonnenfeld To Direct Netflix's 'A Series Of Unfortunate Events'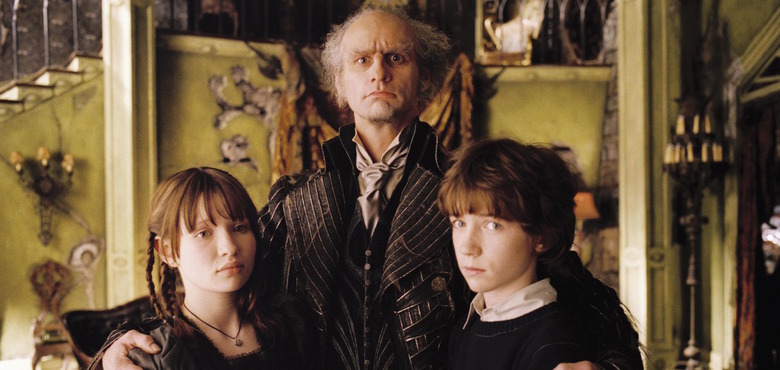 A couple of fortunate events have befallen Netflix's A Series of Unfortunate Events. Barry Sonnenfeld has just signed on to direct Netflix's adaptation of the Lemony Snicket books, while Mark Hudis (True Blood) will serve as showrunner.
Hardcore fans of the series may recall that Sonnenfeld was originally on board to helm the 2004 movie, but was later replaced by Brad Silberling. More about the Lemony Snicket director after the jump. 
Variety broke the news about Sonnenfeld's hiring as the Lemony Snicket director. Sonnenfeld and Hudis will executive produce with Daniel Handler, author of the Lemony Snicket books. As of yet, it's unclear when shooting will start or when the show will hit Netflix. No casting has been announced.
The Lemony Snicket stories follow recently orphaned siblings Violet, Klaus, and Sunny Baudelaire. They're sent to live with a distant relative called Count Olaf, who has designs on the children's fortune. The Baudelaires try to escape his clutches while figuring out what happened to their family. The new show is envisioned as an all-ages affair, appealing to both kids and their parents.
In 2002, Sonnenfeld was set to direct a big-screen adaptation of Lemony Snicket's A Series of Unfortunate Events for Paramount. However, he dropped out in 2003 over budgetary concerns and Silberling took over. The resulting movie, released in 2004, was a modest success, but failed to kickstart a franchise as the studio had originally hoped.
Sonnenfeld is best known for directing the Men in Black movies, but he has plenty of TV experience as well. He directed the pilot episodes of The Tick and Pushing Daisies, as well as the Beverly Hills Cop pilot that failed to move forward at CBS a couple of years ago. Currently he's working on Nine Lives, a movie starring Kevin Spacey as a man trapped in a cat's body.
Hudis served as showrunner on the sixth season of True Blood, and is a co-executive producer of Amazon's new drama Hand of God. his other credits include Nurse Jackie and That '70s Show.