'Beasts Of No Nation' Trailer: Idris Elba Molds A Child Soldier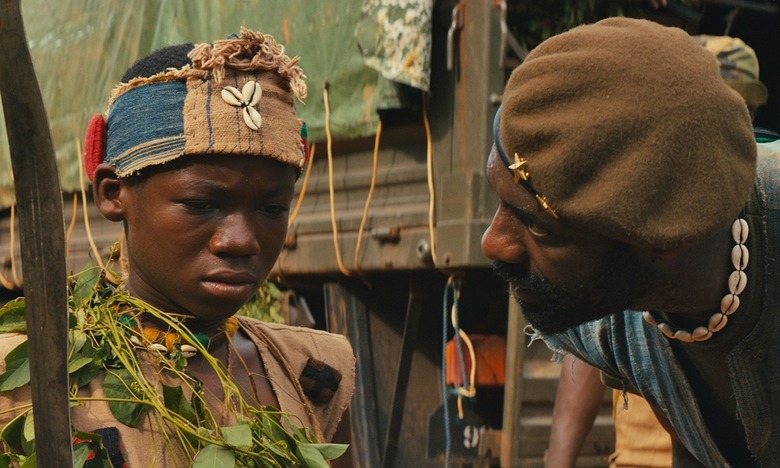 Netflix's first foray into prestige drama seems to be off to a good start. Beasts of No Nation premiered at the Venice Film Festival earlier this week, immediately attracting high praise for leads Idris Elba and Abraham Attah and director Cary Fukunaga.
Unfortunately, those of us not currently hobnobbing with movie stars on the Lido still have several weeks to go until we'll get to see it. But in the meantime, Netflix has unleashed the first full-length Beasts of No Nation trailer to whet our appetites. Watch it after the jump.
Netflix shared the Beasts of No Nation trailer on YouTube.
Based on the novel by Uzodinma Iweala, Beasts of No Nation unfolds in an unnamed West African country ripped apart by civil war. Attah plays Agu, a young boy who is torn from his family and forced to join a guerrilla fighter unit. Elba is the Commandant, a ruthless but charismatic warlord who takes Agu under his wing and molds him into a soldier.
You get some of what Thompson on Hollywood has called "Idris Elba's best performance on film" in the trailer, but it never loses sight of Attah and Agu's journey, either. It also offers a taste of the twisted relationship between Agu and the Commandant. With Agu's father killed by invading soldiers, the Commandant is all too happy to step in as the new father figure in Agu's life.
The first teaser zeroed in on a horrifying episode for Agu, as the Commandant convinces Agu to kill a man. Agu seems to be further along in his transformation in the new trailer, but hasn't completely lost his childlike qualities. The scenes of the boys playing are some of the most heartbreaking in the promo.
Beasts of No Nation arrives in theaters and on Netflix October 16. The day-and-date release makes Beasts of No Nation eligible for Oscar.