'Agent Carter' Season 2 First Look Reveals A Big Change For The SSR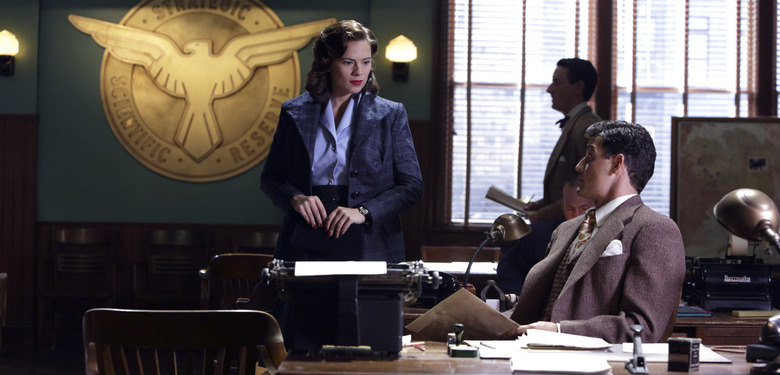 Agent Carter Season 1 was a wild ride for Peggy and the Strategic Scientific Reserve, and now it looks like there are some big changes in advance of Season 2. For one thing, it appears Peggy's going to have a new boss, as teased in this Agent Carter Season 2 first look. Find out who it is after the jump.
Marvel Entertainment shared the Agent Carter Season 2 first look on Twitter.
Production's begun on #Marvel's #AgentCarter Season 2 and we've got your first look from the set! pic.twitter.com/ny2e0v1i6x

— Marvel Entertainment (@Marvel) September 3, 2015
You'll recall that at the end of Season 1, SSR Chief Roger Dooley (Shea Whigham) perished after he jumped out the window wearing an explosive vest. Jack Thompson (Chad Michael Murray) was made acting chief of the SSR following Dooley's death. Exec producer Michele Fazekas previously confirmed Thompson remains in that position, but only in New York. "[H]e's also not the head of the whole agency," she teased.
So if Thompson is heading up SSR's New York branch, the photo above seems to suggest Peggy's good friend Daniel Sousa (Enver Gjokaj) has taken over a different branch — presumably in Los Angeles, as that's the setting of Agent Carter Season 2. That should be a nice change for Peggy after Dooley's condescending attitude. Though let's be real, we all know she should be running this joint herself.
Agent Carter Season 2 will premiere on ABC in early 2016.
"MARVEL'S AGENT CARTER" (Season 2) "Marvel's Agent Carter" returns for a second season of adventure and intrigue, starring Hayley Atwell in the titular role of the unstoppable secret agent for the SSR (Strategic Scientific Reserve). Dedicated to the fight against new atomic age threats in the wake of World War II, Peggy must now journey from New York City to Los Angeles for her most dangerous assignment yet. But even as she discovers new friends, a new home — and perhaps even a new love — she's about to find out that the bright lights of the post-war Hollywood mask a more sinister threat to everyone she is sworn to protect.