'Beasts Of No Nation' Early Buzz: Idris Elba Gives A Powerhouse Performance In Cary Fukunaga's War Drama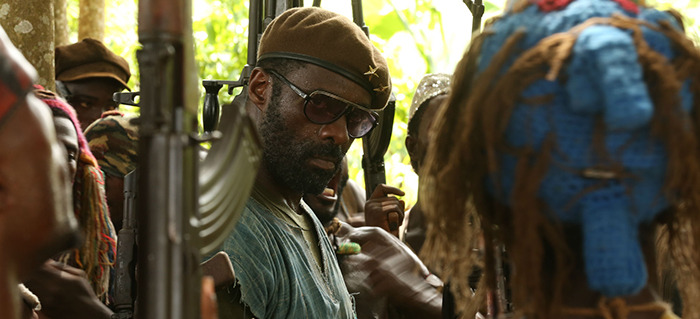 Netflix's first real Oscar campaign begins this week with the world premiere of Beasts of No Nation at the Venice Film Festival. On paper, it sounds strong: Directed by Cary Fukunaga and based on the book by Uzodinma Iweala, the harrowing drama follows the making of an African child soldier (played by newcomer Abraham Attah) in the hands of a charismatic yet monstrous warlord (played by Idris Elba). So how does it play out in practice? Get the Beasts of No Nation early buzz after the jump. 
Overall, the reaction to Beasts of No Nation has been strong. Elba in particular is getting showered with praise. His Commandant already looks poised to go down as one of his career-best performances along with Nelson Mandela and John Luther. Elba's young co-star Attah is earning a lot of buzz as well, which is especially impressive given how much of the film rests on his inexperienced shoulders. Not surprisingly, the film is described as a brutal watch, but for the most part critics seem to agree it's one worth the effort. Read some select comments below.
Demetrios Matheou at Thompson on Hollywood:
The fact that the experience of the boy on screen is currently being replicated a quarter of a million times worldwide, at a conservative estimate, gives the story a terrible currency. But it's Fukunaga's storytelling chops, aided by what is arguably Idris Elba's best performance on film – better than his Mandela – that lend this message movie its indispensable aura.
Jessica Kiang at The Playlist (A):
Surely one of the most beautiful films about ultimate ugliness ever, Cary Joji Fukunaga's immersive and profoundly moving "Beasts of No Nation" is a hollowing experience — it reaches in and scoops you out, piece by piece, until all that's left is a cavernous shame at being a person who lives in a world where this story can happen.
For all the film's unyielding focus on Agu's journey and its reams of voiceover narration, something essential seems to have been lost in the transition from page to screen; this is a drama that's ultimately more persuasive on a pictorial level than it is compelling on a psychological one. And although the movie's worthy, humanist themes are all but inscribed on every frame, the manner in which they coalesce somehow feels naggingly unspecific; the film's end-credits imperative ("Tell the world that children are not soldiers") feels at once thoroughly laudable and somehow insufficient to the dramatic task at hand.
Todd McCarthy at The Hollywood Reporter:
How a child actor could be coached to reveal and project the enormous range of reactions and emotions required for the role of Agu is practically unimaginable, but Attah is persuasive and true and constantly interesting to watch as a boy forced to endure extremes of experience to be wished on no one. The film would not have been worth making without a capable kid at its center, and the director found him.
Robbie Collin at The Telegraph (4/5):
Anyone familiar with Fukunaga's directorial work on the first season of True Detective or his debut film, the Mexico-set gangster thriller Sin Nombre, will recognise the visceral swing and swoop of the action scenes here: the mood is one of spiralling panic, but the editing has a methodical chop-chop-chop that makes a crisp narrative sense of the chaos.
Fionnuala Halligan at Screen Daily:
Full of committed performances, particularly from Elba and the impressive young actor Abraham Attah, Beasts Of No Nation is a project of considerable integrity which makes for a consistently-engrossing, if over-long, viewing experience. It is grim, often harsh and occasionally trips over to nightmarish, Heart of Darkness territory. Like the central character of the Commandant, played so effectively by Elba, it also struggles to hold onto its power throughout.
Peter Bradshaw at The Guardian:
This is a very powerful and confidently made movie, a film that really puts its audience through the wringer, which finally refuses any palliative gestures, with towering performances from Elba and Attah. The awards season really has begun.
Beasts of No Nation arrives in theaters and on Netflix October 16.