Watch Ethan Hawke As Chet Baker In 'Born To Be Blue' Clip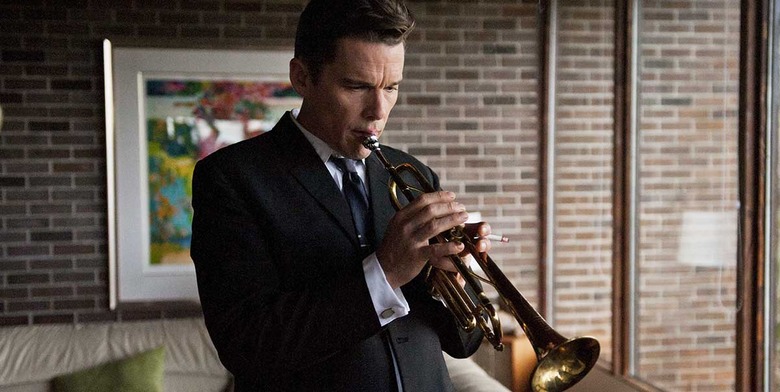 Ethan Hawke plays jazz trumpeter and famous addict Chet Baker in the film Born to Be Blue, which premieres soon at the Toronto International Film Festival. There's no trailer for the film just yet, but you can see a clip of Hawke in action, playing a mournful version of 'Somewhere Over the Rainbow' in the studio as his producer, played by Callum Keith Rennie, looks on approvingly. Have a look at the Born to Be Blue clip below. 
The film comes from director Robert Budreau, who previously made the short The Deaths of Chet Baker. This film is a mix of fact and informed fiction, finding Baker in the late '60s after his rise as a musician in the '50s led to addiction and personal downfall. So it's comeback time for Baker, and in this clip he appears to be in a position to prove himself as a player in front of some suits who might be able to help him out.
The clip comes from Variety, but TIFF has this write-up about the movie.
Ethan Hawke is an utterly magnetic screen presence as Chet Baker, the legendary trumpeter and singer who, after becoming a jazz icon in the 1950s, became equally famous for his drug addiction. Born to be Blue reimagines Baker's life as a mixture of factual and fictional events, picking up his story late in his career when — after years of heroin abuse, financial loss, and public disgrace — he stages a comeback.
Born to be Blue finds Baker at the end of the 1960s, starring in a film about his own already-infamous life. He strikes up a passionate romance on and off the film set with Jane (Carmen Ejogo), the actress playing one of his lovers, but his hopes for a bright future are suddenly darkened when he suffers a brutal beating in a parking lot after a gig. The film is shelved, and his mouth so badly damaged that his musical career looks in doubt. With a modified sound, a youthful hunger, and Jane's unflagging support, he becomes determined to regain his place among his peers — chiefly his friend and collaborator Dizzy Gillespie (Kevin Hanchard), his rival Miles Davis (Kedar Brown), and his reticent producer (Callum Keith Rennie).