Netflix Renews 'Narcos' For Season 2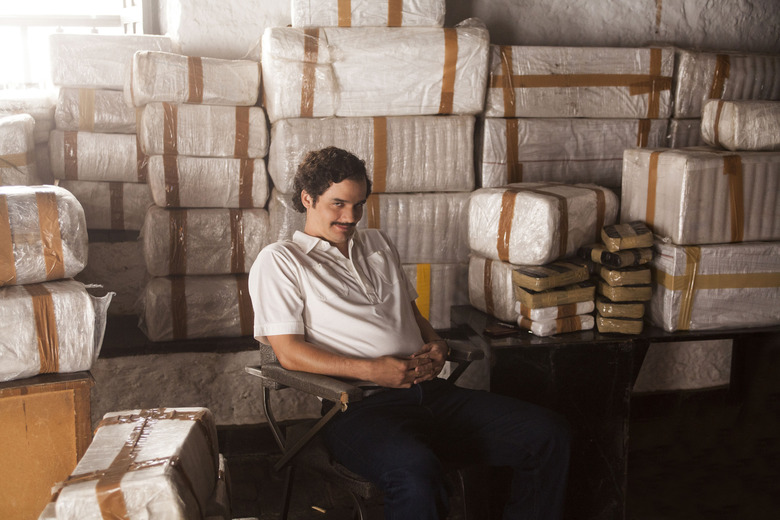 No one loves Netflix's original scripted drama slate more than Netflix itself. So far the service has renewed every drama it's premiered, and as of today that includes Narcos. The drug trafficking saga just been confirmed to return for a second season, under Adam Fierro as the new showrunner. More details on the Narcos renewal after the jump.
The Narcos renewal news doesn't come as a big surprise. According to THR, the show began preparing for Season 2 all the way back in April, beefing up its writers room. Fierro replaces Chris Brancato, who has left to join ABC's Of Kings and Prophets. Brancato joined Narcos midway through production on Season 1, and will continue to be credited as a co-creator in Season 2. Fierro is a TV vet who previously worked on 24, The Shield, Dexter, and The Walking Dead.
So far, Netflix has renewed dramas House of Cards, Hemlock Grove, Orange Is the New Black, Marco Polo, Bloodline, Daredevil, Between, and Sense8, as well as comedies BoJack Horseman and Grace and Frankie. (The only reason Unbreakable Kimmy Schmidt isn't on that list is because it started out with a two-season order.) Club de Cuervos, which premiered last month, is the only drama that has yet to be renewed, but it hasn't been cancelled, either.
Narcos chronicles the rise of drug kingpin Pablo Escobar (Wagner Moura) and his Medellín Cartel in the 1980s. Boyd Holbrook and Pedro Pascal also star, as two DEA agents trying to take Escobar down. The 10-episode first season hit Netflix August 28. Reviews have been mostly, though not unanimously, positive. Moura in particular has attracted a lot of praise for his performance as the criminal icon.
As of yet, there's no word on when Narcos Season 2 will premiere. Most of Netflix's returning shows seem to put out about a season per year, though, so our best guess is that Narcos will debut new episodes in 2016.