'Jack Reacher 2' Sets Fall Release Date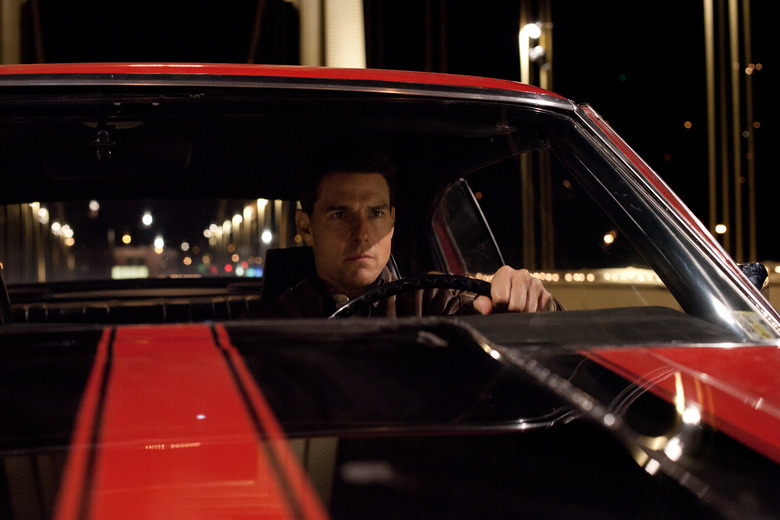 Jack Reacher will be back to dole out some more no-nonsense justice in a little over a year. Paramount has set a fall 2016 release date for Jack Reacher 2, which has Tom Cruise returning as the titular hero under director Ed Zwick (The Last Samurai). Get details on the Jack Reacher 2 release date after the jump. 
The studio has announced Jack Reacher 2 will open October 21, 2016. It takes the place of Warner Bros.' disaster pic Geostorm, which, like Jack Reacher 2, is co-produced by Skydance. That one was moved to January 2017 earlier this week. The date pits Jack Reacher 2 against the horror sequel Ouija 2 and the action horror sequel Underworld 5.
Jack Reacher 2 is scripted by Marshall Herskovitz and Richard Wenk. It's based on Lee Child's 2013 book Never Go Back, the 18th in his Jack Reacher series. Here's a basic summary of the novel:
In it, Reacher heads back to his old military base in Virginia to take a woman to dinner who is now the commanding officer. By the time he gets there, she has been arrested, and Reacher finds himself being charged with pummeling one guy and fathering a child with a woman. He can't remember either transgression but gets to the bottom of it with cunning and sometimes brute force.
Of course, we can expect a few things to change in translation. Cobie Smulders is in talks to play Danika, which isn't the name of any major character in the Jack Reacher novels. Danika might be an altered version of Susan Turner, the commanding officer mentioned above, or she might be a character invented just for the movies.
The first Jack Reacher wasn't a huge hit domestically, but it made up for that with a strong overseas performance. In the end the film grossed $218 million worldwide; $80 million of that was from the U.S. Not too shabby for a film that cost $60 million to make.