Two New 'High-Rise' Images Feature Tom Hiddleston, Elisabeth Moss, And Jeremy Irons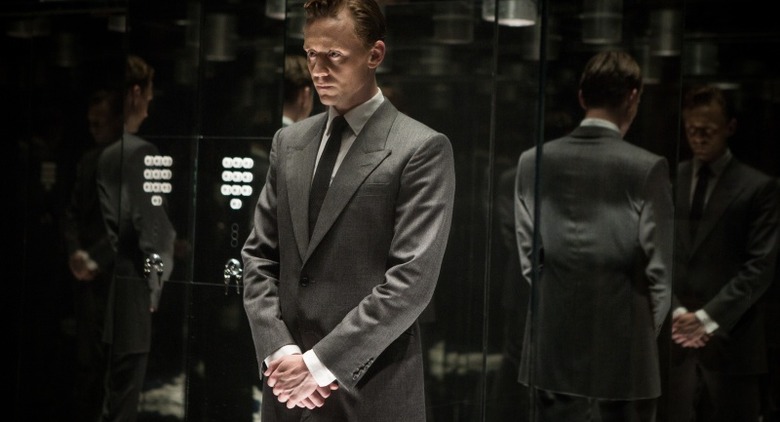 There's no trailer for Ben Wheatley's High-Rise, seemingly in part because there's isn't a firm release plan announced in the UK, and no US distributor. We're waiting eagerly for news of the film's theatrical release. In the meantime, however, we've got two new High-Rise images showing Jeremy Irons, Tom Hiddleston, and Elisabeth Moss as they appear in the film.
And while images of Hiddleston's character that we've seen in the past (like the one above) made the guy look like his life is pretty together, this new shot shows him in a different place. And then there's a shot of Irons which is a bit mysterious, even ominous.
The film's official twitter feed offered up these pics. The film will be at Fantastic Fest at the end of the month, and then hit the BFI London Film Fest in October, with an October 9 UK premiere date at the fest.
This is Jeremy Irons as Anthony Royal and Tom Hiddleston as Dr Robert Laing and Elisabeth Moss as Helen Wilder.
We'll see High-Rise at Fantastic Fest, and that festival gives us this info on the movie.
Laing, a young doctor, joins a community in a luxury building in Thatcher's England, who exile themselves from society and gradually divide into violent tribes.
1975. Two miles west of London, Dr. Robert Laing moves into his new apartment seeking soulless anonymity, only to find that the building's residents have no intention of leaving him alone. Resigned to the complex social dynamics unfolding around him, Laing bites the bullet and becomes neighborly. As he struggles to establish his position, Laing's good manners and sanity disintegrate along with the building. The lights go out and the lifts fail but the party goes on. People are the problem. Booze is the currency. Sex is the panacea.
The film is written by Amy Jump and directed by Ben Wheatley, based on the novel by J.G. Ballard. Clint Mansell provides the score, and Laurie Rose acted as cinematographer. All those factors together contribute to my huge interest in the movie. Fantastic Fest can't get here fast enough.
Here are the prior images we've seen from the movie, which also features Luke Evans, Sienna Miller, James Purefoy, Peter Ferdinando, Reece Shearsmith, Sienna Guillory, Dan Renton Skinner, Augustus Prew, and Stacy Martin: