CBS' 'Under The Dome' Cancelled; NBC's 'Coach' Benched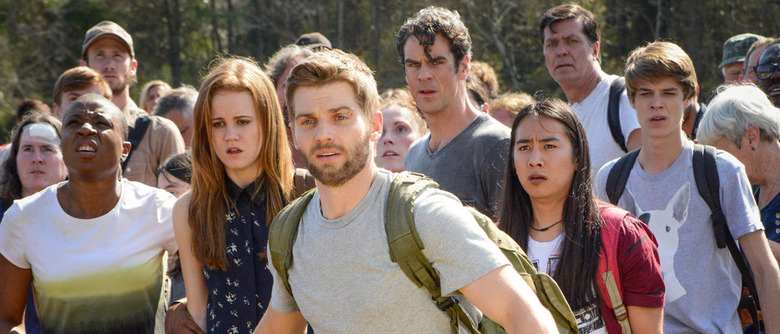 The good news for the residents of Chester's Mill is that their days under the Dome are almost over. The bad news is, it's because Under the Dome has been cancelled. CBS has announced the current third season of the Stephen King-based series will be its last.
Elsewhere, NBC has also decided to ditch one of its projects. The network won't move ahead with Coach, the planned sequel to the classic sports sitcom. Read all about the Under the Dome cancellation and the Coach benching after the jump.
CBS confirmed this week that Under the Dome will conclude with the Season 3 finale, scheduled for Thursday, September 10 at 10 PM. Here's the statement from CBS Entertainment chair Nina Tassler:
Two years ago, 'Under the Dome' broke new ground in the summer and became an instant hit on CBS, as well as with viewers around the world. 'Dome's' event storytelling and multiplatform business model paved the way for more original summer programming with the successful rollouts of 'Extant' and 'Zoo.' We're excited to present the final chapter in Chester's Mill as the story comes full circle, with the dome coming down as dramatically as it went up.
Across social media, the cast of Under the Dome reacted with gratitude for the three seasons they got.
Acting is perpetual unemployment sprinkled in with moments of work. I cannot thank you e Pugh for allowing us into your homes for the last..

— Mike Vogel (@Mike_Vogel) September 1, 2015
....3 years. I will miss my cast. I will miss joking with all of you, but now, it's on to something new and exciting....whatever that is...

— Mike Vogel (@Mike_Vogel) September 1, 2015
To the fans of Under The Dome. You have been fantastic!!! Thank you. See you all soon @UnderTheDomeCBS

— Dean Norris (@deanjnorris) September 1, 2015
Meanwhile, over at NBC, Coach is discovering that even '90s nostalgia has its limits. Deadline reports the network has scrapped the Coach revival, after giving it a straight-to-series 13-episode order in April. Only the pilot had been shot so far. Reactions to that episode were mixed, with some noting it felt "dated." (Imagine that.) NBC and the producers subsequently butted heads over creative differences.
The new Coach picked up 18 years after the old Coach. Hayden Fox (returning lead Craig T. Nelson) comes out of retirement to serve as assistant coach to his now-grown son (Andrew Ridings), who's just scored a head coach gig at an Ivy League school. Bill Fagerbakke and Pam Stone were also set to return, and series creator Bill Kemp was back as executive producer and writer.
But like any good athlete, Coach isn't giving up easily. The series will be shopped to other networks now that NBC has passed.