'Dope' Returning To Theaters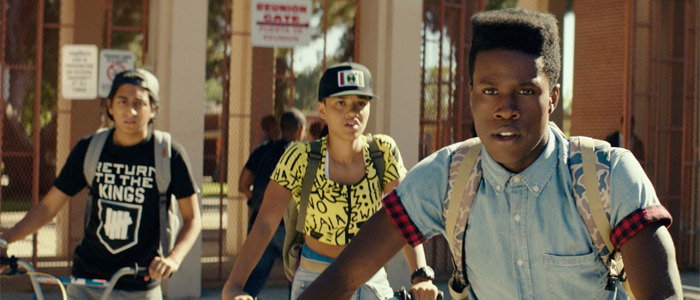 After garnering all sorts of praise at Sundance, Rick Famuyiwa's Dope opened in theaters earlier this year to disappointing numbers. Apparently audiences just weren't interested in a coming-of-age story set in inner-city Los Angeles, against a '90s hip-hop soundtrack.
... Except, of course, they totally were, because Straight Outta Compton is currently killing it at the box office. So Open Road is making a second play for box office gold, putting Dope back in theaters this weekend. More on the Dope re-release after the jump. 
Pharrell Williams (who wrote four original songs for the film) announced the Dope re-release news on Twitter.
Excited to announce that @DopeMovie is back in theaters this Friday! http://t.co/grT1HwbX6X #DopeMoviehttps://t.co/m51iNNchAh

— Pharrell Williams (@Pharrell) August 31, 2015
Coming off of Sundance, Dope felt like the little movie that could. With a reported budget of just $700,000 the low-key charmer scored a $7 million deal at the festival — one of this year's biggest. Open Road then set it for a wide release in a plum summer slot. But for whatever reason, it fizzled once it actually hit theaters. To date, it's made $16 million — not terrible for an indie, but less than Open Road might have hoped.
Which is too bad, because Dope is a film well worth seeing. It's a little messy, but it benefits from a fresh, unpredictable energy and what should be a star-making turn by Shameik Moore. And for what it's worth, it probably would make a pretty good companion piece to Straight Outta Compton — they're very different movies but share enough DNA to appeal to the same audiences.
Labor Day weekend is always a slow one for theaters, and the pickings are usually slim. Dope will be up against new wide releases The Transporter Refueled and A Walk in the Woods, a limited release of Chris Evans' directorial debut Before We Go, the second weekend of the surprise religious hit War Room, and the fourth weekend of Straight Outta Compton.
A critical hit and audience favorite out of the Sundance Film Festival, in DOPE, Malcolm (Shameik Moore) is carefully surviving life in a tough neighborhood in Los Angeles while juggling college applications, academic interviews, and the SAT. A chance invitation to an underground party leads him into an adventure that could allow him to go from being a geek, to being dope, to ultimately being himself.