'The Danish Girl' Trailer Starring Eddie Redmayne And Alicia Vikander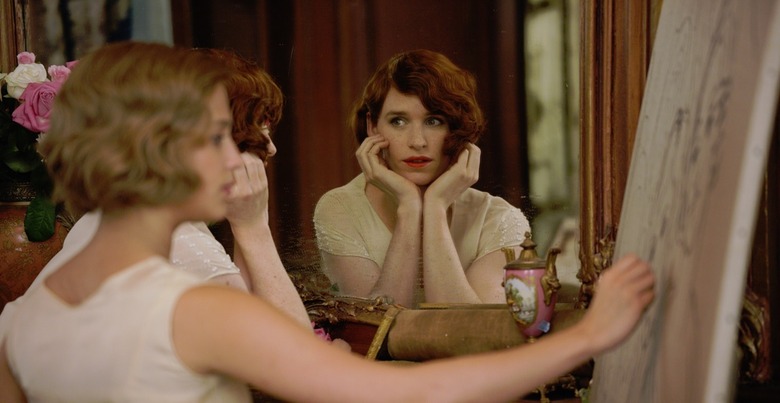 Eddie Redmayne began 2015 as an unhinged space prince (or something?) in Jupiter Ascending, but as the year starts winding back down he's heading back to the prestige-picture track. Focus Features has released the first trailer for Tom Hooper's The Danish Girl, starring Redmayne as transgender pioneer Lili Elbe. Alicia Vikander plays Elbe's wife Gerda Wegener. Watch The Danish Girl trailer after the jump.
Fandango debuted The Danish Girl trailer.
In an interview with Screen Daily, Hooper said he had cast Redmayne for "a certain gender fluidity" while also acknowledging there's still "a long way to go" for trans actors and trans representation. Redmayne threw himself into the role, interviewing members of the trans community as research for the film. "People were so kind and generous with their experience, but also so open," he told Out.
Nevertheless, the decision to cast a cisgender man as a trans icon has already attracted some controversy. The debate will no doubt continue as the film heads toward release, particularly if — as seems very possible, based on this team's track record – The Danish Girl becomes a contender in the Oscar race.
But the real standout in this particular trailer may be Vikander, who plays Lili's devoted wife. The Danish Girl is her sixth(!) release this year, and you'd really think we'd be tired of her by now. But as long as she keeps turning in lively performances like this one, it's hard to grumble too much about her ubiquity.
The Danish Girl premieres at the Venice Film Festival and then hits TIFF before rolling out into U.S. theaters on November 27, 2015. Amber Heard, Matthias Schoenaerts, and Ben Whishaw also star.
The remarkable love story inspired by the lives of Lili Elbe and Gerda Wegener (portrayed by Academy Award winner Eddie Redmayne ["The Theory of Everything"] and Alicia Vikander ["Ex Machina"]), directed by Academy Award winner Tom Hooper ("The King's Speech," "Les Misérables"). Lili and Gerda's marriage and work evolve as they navigate Lili's groundbreaking journey as a transgender pioneer.