'Macbeth' Trailer: All Hail Michael Fassbender As Macbeth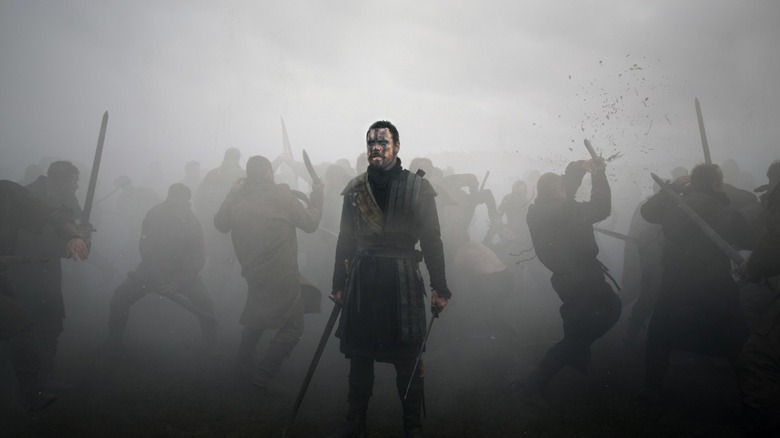 One of our most anticipated films of the fall season has just given us another reason to get excited. The Weinstein Co. has unveiled a breathtaking new trailer for Macbeth, directed by Justin Kurzel. Michael Fassbender stars as the Scottish general who takes the throne, and Marion Cotillard as the ambitious wife who propels him there by any means necessary. Watch the new Macbeth trailer after the jump. 
The Weinstein Co. debuted the latest Macbeth trailer on YouTube.
The trailer feels both classic and new. Kurzel's Macbeth is still set in Medieval Scotland, and the story will be familiar to anyone who tried to make sense of the play in high school English. But Fassbender and Cotillard's performances look powerful and layered, and the bold visual design manages to look theatrical and cinematic at the same time.
When Macbeth had its world premiere at Cannes earlier this year, reviews ranged from good to glowing. (Well, there were a couple of detractors here and there, but there are always a couple of detractors here and there.) One representative reaction comes from Variety, who gushed that it was "scarcely improvable," on account of being so "fearsomely visceral and impeccably performed."
If you liked the trailer, don't forget several of the key players are reuniting for a very different project out next year. Kurzel is directing the video game adaptation Asssassin's Creed, with Fassbender and Cotillard starring. Macbeth co-writer (with Jacob Koskoff and Todd Louiso) Michael Lesslie working on the screenplay.
Macbeth opens December 4, 2015 in the U.S. Elizabeth Debicki, Sean Harris, David Thewlis, Jack Reynor, and Paddy Considine also star.
From the Academy Award® winning producers of The King's Speech and acclaimed director Justin Kurzel, comes a visceral and visually breath-taking retelling of the classic tale about an ambitious Scottish lord who seizes the throne with the help of his wife. Starring Academy Award® nominee Michael Fassbender and Academy Award® winner Marion Cotillard, MACBETH is an epic cinematic experience.