'Knock Knock' Trailer: Eli Roth Puts Keanu Reeves Through Torture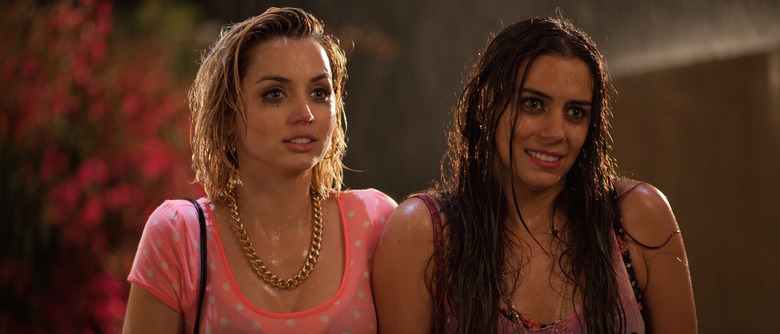 Every kid knows better than to invite strangers in, but sometimes adults forget. And sometimes, said adults also kinda-sorta forget they're married, cheat on their wives with two nubile hotties, are literally tortured as a result.
That's the premise of Eli Roth's new thriller Knock Knock, with Keanu Reeves as the guy making the terrible mistake and Lorenza Izzo and Ana de Armas as the young women who tempt and then torment him. Watch the Knock Knock trailer after the jump.
Knock Knock first debuted at Sundance earlier this year, to very mixed reviews. Some, like HitFix's Drew McWeeny, were impressed, noting that it "has something genuine to say, and it uses some really dark dramatic beats to get there." On the other end of the spectrum were critics like Geek Tyrant's Joey Paur, who unequivocally described it as "the most embarrassing movie that Reeves has starred in."
Germain Lussier, writing for /Film, was in the "pro" camp with his 7/10 review: "Knock Knock is another strong example of Eli Roth doing what he does best: Building tension, asking questions, and making the audience uncomfortable."
Knock Knock debuts in theaters and on VOD October 9. If you're an Eli Roth fan but this one doesn't seem your style, fear not – The Green Inferno arrives just a few days earlier on September 25.
When a devoted husband and father is left home alone for the weekend, two stranded young women unexpectedly knock on his door for help. What starts out as a kind gesture results in a dangerous seduction and a deadly game of cat and mouse. A sexy new thriller from director Eli Roth and written by Eli Roth, Nicolás López and Guillermo Amoedo, KNOCK KNOCK stars Keanu Reeves as the family man who falls into temptation and Lorenza Izzo and Ana de Armas as the seductresses who wreak havoc upon his life, turning a married man's dark fantasy into his worst nightmare.