VOTD: 'Suicide Squad' Confronts The 'The Dirty Dozen' Influence In Trailer Mashup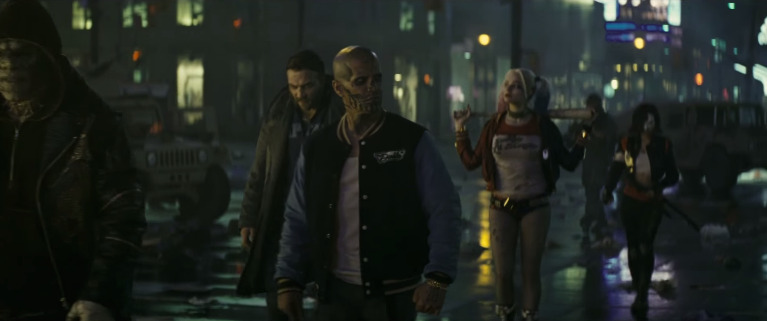 The "men on a mission" movie is a concept that goes back decades, and which was honored most prominently in recent years by Quentin Tarantino in Inglourious Basterds. One of the most famous films in that zone is The Dirty Dozen, in which Lee Marvin played an OSS officer tasked with recruiting a bunch of criminals and ne'er-do-wells to undertake a D-Day prep mission that was almost certainly a suicide run.
The comic book team Suicide Squad takes inspiration from that cinematic idea, and David Ayer's upcoming film of the same name is certainly indebted to the concept as Amanda Waller (played by Viola Davis) recruits a crew of super-powered bad guys (and bad women) to undertake its own mission. At this point we don't even know what that mission is, but that hasn't stopped an editor from cutting officially-released footage together with old trailer audio to make a Suicide Squad Dirty Dozen mashup. 
The video, cut together by Ezequiel López, who also did the great It's a Mad Mad Mad Max Fury Road trailer gag, comes via Vulture. It would be nice if Viola Davis got a closeup at the opening when the Lee Marvin character Major Reisman is invoked, and I can't really figure out why Lopez went with Will Smith there. Otherwise, not bad.
Here's the Mad Max trailer edit, for those who missed it earlier this summer:
***
Based on the comics by John Ostrander, Suicide Squad stars Viola Davis as Amanda Waller, Jared Leto as the Joker, Margot Robbie as Harley Quinn, Will Smith as Deadshot, Joel Kinnaman as Rick Flagg, Jai Courtney as Captain Boomerang, Cara Delevingne as Enchantress, Karen Fukuhara as Katana, Adewale Akinnuoye-Agbaje as Killer Croc, Jay Hernandez as El Diablo, Adam Beach as Slipknot, and Ben Affleck as Batman, plus Scott Eastwood, Ike Barinholtz, Jim Parrack, and Common.
Warner Bros. will open Suicide Squad in theaters on August 5, 2016.
The Dirty Dozen is on DVD and Blu-ray, and can be streamed from various on-demand digital services.
World War II. An impossible mission ... The fate of the Allied invasion hanging in the balance ... 12 men with nothing left to lose. Now the fate of the free world depends on a group of convicted murderers, thieves and thugs–The Dirty Dozen. Twelve American military prisoners are offered parole–if they complete a suicide mission behind enemy lines just before D-Day. After weeks of grueling training, they are dressed in German uniforms, dropped deep behind enemy lines and left on their own to complete their mission and try to get out alive. Based on the novel by E.M. Nathanson.