Two More 'Star Wars: The Force Awakens' Alien Characters Revealed

We're just four days away from Force Friday, the huge unveiling of goodies that continues to fuel the hype machine for Star Wars: The Force Awakens, a day which will be preceded by an 18-hour live streaming unboxing event. And while it seemed like we had seen a majority of the toys that will be sold, and therefore all the characters they'll introduce, it appears there are still some new items to see.
In fact, two new action figures have just been unveiled, showing us two new The Force Awakens alien characters. One of them is a Resistance X-Wing pilot while the other is a character we've seen before, but didn't have a name at the time. Check out the characters below!
Here are the two new characters revealed in action figure form (via Jedi Temple Archives):
That first one is Sarco Plank, who seems to be some kind of alien scavengers on the planet Jakku. We know this not just because the front of the character card mimics the desert land art that we've seen on the Jakku specific action figures of Rey (Daisy Ridley) and Finn (John Boyega), but also because this is a character we've seen on set before.
Back when Vanity Fair did a whole spread on Star Wars: The Force Awakens, one of the images was a stage shot of J.J. Abrams directing a scene with Rey on her speeder next to a small market tent of some sort. And if you looked carefully at one of the background characters, you saw Sarco Plank. Here's a close-up look at the image featuring the character: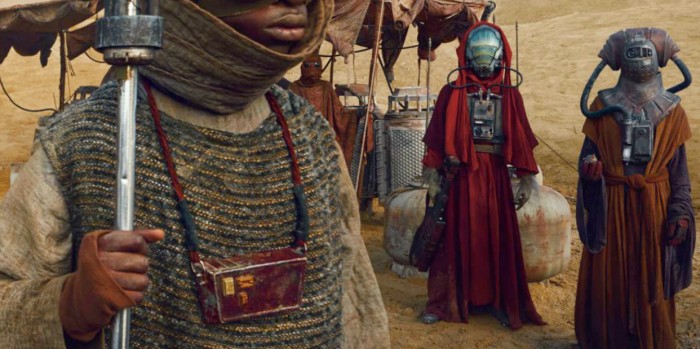 As you can see, he's got some kind of big gun (though the action figure has a different accessory). So we're not sure if he's a scavenger merely prepared for any deals to go sour at this desert market, or if he's maybe someone who ends up being trouble for Rey, perhaps beginning the speeder chase that several other toys have teased.
As for that second character, it's some kind of new alien pilot named Asty. He's a Resistance pilot, so he's a good guy. But just because he has an action figure doesn't mean he's a pivotal character in The Force Awakens. Hasbro is notorious for making action figures out of the most minor characters from the Star Wars movies, especially pilots. Remember Ric Olie from Star Wars: The Phantom Menace? He was in the movie for about two minutes (if that), and he got an action figure right when the toys came out.
Anyway, with just four days left until these toys hit shelves, we'll likely get some more looks at new characters from Star Wars: The Force Awakens. Though if the pattern continues, they likely won't tell us much about the plot of the movie, and we'll still be left in the dark by the time December 18th rolls around. But that's just fine with me.