'Pay The Ghost' Trailer: Nicolas Cage Uncovers A Halloween Mystery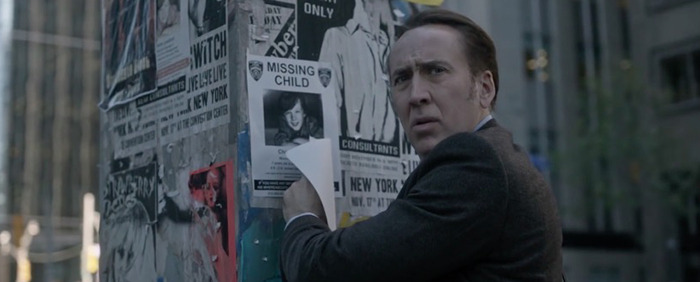 Nicolas Cage's child goes missing on Halloween night despite the dad's attentive devotion to the kid's well-being, but the good news is it isn't his fault. As it turns out, Cage is stuck in a story in which a whole bunch of missing kids are stolen away on Halloween night thanks to the machinery of... well, something.
Is it a supernatural force, or a more down to Earth human conspiracy that just uses the trappings of Halloween to disguise its crimes? We're not sure, but check out the Pay the Ghost trailer below and see what you can figure out.
With that deliberately misleading blend of supernatural and criminal plot possibilities (and in this case, I don't say "misleading" in a negative sense) this looks like it could be a Larry Cohen movie — it's got some of the same vibe as Cohen's weird thriller God Told Me To. If this is schlock that is as weird and entertaining as a film like that, then I'm all for it.
But we've also seen Cage do so much crap that it's difficult to be more than guardedly optimistic about a film like this, and much of this specific trailer doesn't inspire a lot of confidence. Cage just looks so tired, and not "I've been searching for my missing kid for a year" tired, but "here we go again" tired.
But when his kid tells him to look again, at the end of the trailer, I want to know what he sees. So, yeah, I'm hooked, whether or not I want to be. I have a minor fantasy that Cage did this movie just because of that "look again" hook.
Pay The Ghost opens in a theatrical release and on VOD on September 25. Trailer via IGN.
Oscar® winner Nicolas Cage (Leaving Las Vegas) stars in this intense and chilling thriller about one man's desperate search for his missing child. One year after his young son disappeared during a Halloween carnival, Mike Cole (Cage) is haunted by eerie images and terrifying messages he can't explain. Together with his estranged wife (Sarah Wayne Callies, The Walking Dead), he will stop at nothing to unravel the mystery and find their son—and, in doing so, he unearths a legend that refuses to remain buried in the past.