'Gotham' Season 2 Promo: The Monsters Are Coming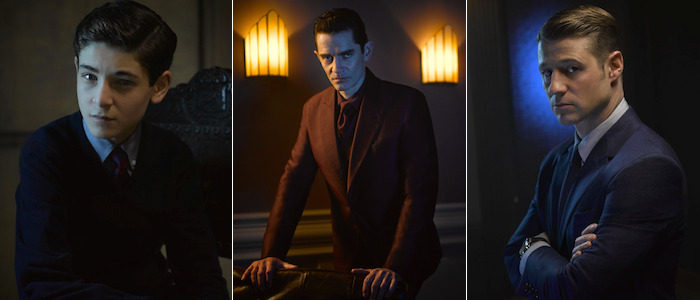 Poor Jim Gordon. The guy really wants to clean up Gotham, and is clearly willing to do whatever it takes to make that happen. But in Season 1, he encountered, greed, corruption, and evil at every turn. And based on the fact that Season 2 is titled "Rise of the Villains," we're gonna guess that doesn't really change in Season 2.
A fresh Gotham Season 2 promo and a bunch of new photos showcase some of the friends and foes Jim (Ben McKenzie) will be dealing with when the show returns in a few weeks. Of particular interest are new characters like GCPD captain Nathaniel Barnes (Michael Chiklis), billionaire industrialist Theo Galavan (James Frain), and his loyal sister / enforcer Tabitha Galavan (Jessica Lucas). Watch the Gotham Season 2 promo and see the new photos after the jump.
Fox unveiled the Gotham Season 2 promo on Facebook.
In The AirCan you feel it? Monsters are coming to Gotham.
Posted by Gotham on Friday, August 28, 2015
And here are some character portraits to go along with the promo.
Gotham Season 2 kicks off Monday, September 21 at 8 PM.
The good. The evil. The beginning.
Everyone knows the name Commissioner Gordon. He is one of the crime world's greatest foes, a man whose reputation is synonymous with law and order. But what is known of Gordon's story and his rise from rookie detective to Police Commissioner? What did it take to navigate the multiple layers of corruption that secretly ruled Gotham City, the spawning ground of the world's most iconic villains? And what circumstances created them – the larger-than-life personas who would become Catwoman, The Penguin, The Riddler, Two-Face and The Joker?
GOTHAM is an origin story of the great DC Comics Super-Villains and vigilantes, revealing an entirely new chapter that has never been told. From executive producer/writer Bruno Heller ("The Mentalist," "Rome"), GOTHAM follows one cop's rise through a dangerously corrupt city teetering between good and evil, and chronicles the birth of one of the most popular super heroes of our time.