Steve Carell Takes Bruce Willis Role In Woody Allen's Latest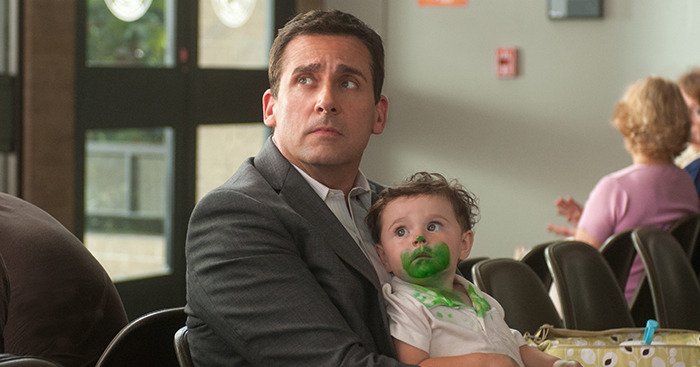 We still don't know exactly what happened on Woody Allen's latest film that led to the departure of Bruce Willis, but in the end the show will go on. Despite having shot some of his scenes, Willis is off the film, and his role will now be played by Steve Carell. 
Deadline reports on the swap. Carell has already been in one of Allen's films. He played a small role as Will Ferrell's friend in the 2004 film Melinda and Melinda, well before Carell's star had risen as a lead on The Office or in movies. At that time, Carell was still a Daily Show cast member.
Despite persistent rumor that Willis was fired, the party line remains that he left the movie when he determined his schedule for the Broadway version of Misery didn't mesh with the requirements for Woody Allen's shoot. How that was determined after the shoot had already started is a mystery, but if that's the story everyone has agreed to stick with, no big deal. If Allen really did fire him, he's being very kind about it by going with the "bad scheduling" story.
The rest of the cast of Allen's film, which remains untitled at this point (at least as far as the public knows) includes Blake Lively, Parker Posey, Kristen Stewart, Jesse Eisenberg, Jeannie Berlin, Corey Stoll, Ken Stott, Anna Camp, Stephen Kunken, Sari Lennick and Paul Schneider.
This is the second teaming between Allen and Eisenberg, who did To Rome With Love together, and the third picture to pair Eisenberg and Stewart, with the two previous films being Adventureland and the current American Ultra. (Woody Allen has hired some of the other cast members before, too, such as Corey Stoll, who played Ernest Hemingway in Midnight in Paris.)
The film is shooting now in Los Angeles. The untitled movie is produced by Allen's regular collaborators Letty Aronson, Steve Tenenbaum and Edward Walson. Executive producers are Ronald L. Chez, Adam B. Stern and Allan Teh. Cinematographer Vittorio Storaro (Apocalypse Now, The Last Emperor) is shooting the movie.
The film should arrive in theaters in 2016.