'He Named Me Malala' Trailer: Malala Yousafzai Speaks Out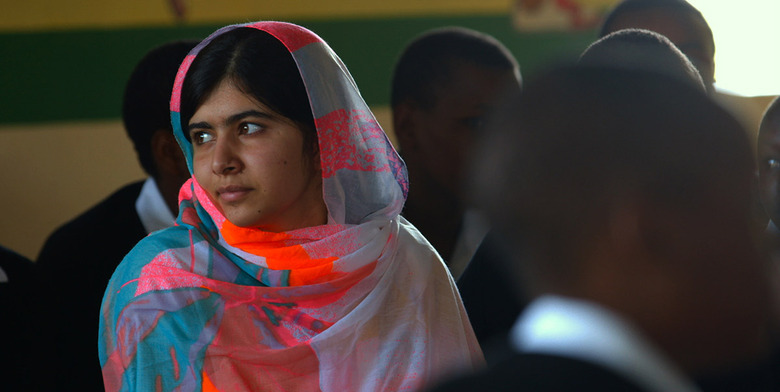 At 15, Pakistani activist Malala Yousafzai was shot in the head for asserting that girls should be educated. But not only did the bullet fail to silence her, it gave her a more powerful voice than ever before.
The incident attracted international attention to Yousafzai's cause, and widespread praise for Yousafzai herself. In 2014, at 17 years old, she became the youngest-ever recepient of a Nobel Prize. Now, at 18, she's the subject of a new documentary by acclaimed director Davis Guggenheim (An Inconvenient Truth, Waiting for Superman). Watch the He Named Me Malala trailer after the jump.
Huffington Post debuted the He Named Me Malala trailer.
That Yousafzai is a fascinating, inspirational figure isn't in doubt. Even Jon Stewart was rendered speechless after speaking with her. But Guggenheim's smart not to lose sight of the fact that she is, in fact, still a teenager. I'll bet that scene of her teaching her dad about Twitter has played out a million times in a million different homes around the world.
He Named Me Malala makes its world premiere at the Toronto Film Festival next month before rolling into U.S. theaters October 2.
HE NAMED ME MALALA is an intimate portrait of Nobel Peace Prize Laureate Malala Yousafzai, who was targeted by the Taliban and severely wounded by a gunshot when returning home on her school bus in Pakistan's Swat Valley. The then 15-year-old (she turned 18 this July) was singled out, along with her father, for advocating for girls' education, and the attack on her sparked an outcry from supporters around the world. She miraculously survived and is now a leading campaigner for girls' education globally as co-founder of the Malala Fund.
Acclaimed documentary filmmaker Davis Guggenheim (An Inconvenient Truth, Waiting for Superman) shows us how Malala, her father Zia and her family are committed to fighting for education for all girls worldwide. The film gives us an inside glimpse into this extraordinary young girl's life — from her close relationship with her father who inspired her love for education, to her impassioned speeches at the UN, to her everyday life with her parents and brothers.