Ridley Scott Confirms 'Prometheus 2' Is His Next Movie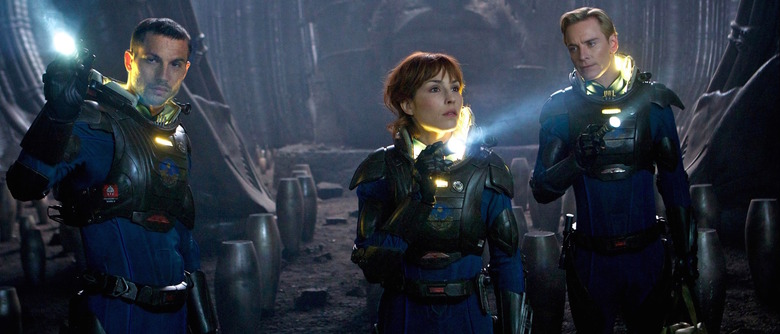 It's been known for a while now that Ridley Scott wants to make a Prometheus 2. The question has been when he'll do it. He's got several projects brewing currently including The Cartel, which he picked up just a few weeks ago. And on top of that there are all the projects he's producing, like Blade Runner 2 and Alien 5.
But Scott has now confirmed, once and for all, that Prometheus 2 will indeed be his next movie. Read the Ridley Scott Prometheus 2 quote after the jump. 
Scott let the Prometheus 2 news slip in a chat with Empire about The Martian. You may recall that for a while, Prometheus 2 was rumored to open in spring 2016. But it eventually emerged that that date was being reserved for The Martian, which then moved up to fall 2015. (The Martian later got pulled up even closer, and is now set to open October 2 of this year.)
According to The Martian star Matt Damon, the release date change was no problem for Scott. "Ridley was done with the movie about two weeks after we shot!" he told the magazine. Scott responded, "I was already on to my next movie! I was starting to look for locations for my next movie, which is Prometheus 2."
So far, 20th Century Fox has yet to announce any sort of timeline for Prometheus 2, and Scott didn't give any details of the sort either. However, recent reports have pegged the Prometheus 2 start date around January 2016. We've also heard Prometheus 2 is what's delaying Neill Blomkamp's Alien 5, since Scott, who is producing Alien 5, is insisting Prometheus 2 move first.
The first Prometheus inspired a mixed reaction from fans and critics, but the idea of Scott returning to that world is pretty intriguing nonetheless. Plot details are being kept scarce, but the director has previously said the sequel will pull back from the Xenomorphs, and introduce a new alien instead.
Prometheus 2 doesn't have a release date, but we can probably expect it out in 2017.