Rumored 'Luke Cage' Synopsis Sounds Just Like Luke Cage Comics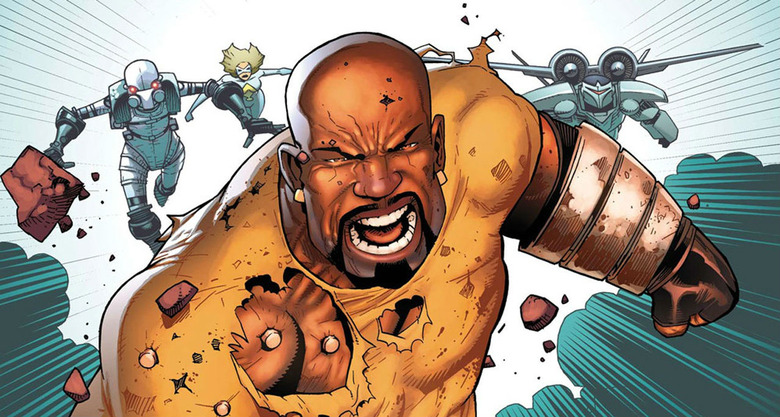 The third Marvel series for Netflix, Luke Cage, should begin shooting soon, and we'll see the show in 2016. The series follows Daredevil, which had its first season debut earlier this year, and Jessica Jones, which just finished it's primary shoot, and will debut later in 2015. Luke Cage will star Mike Coulter as the title character (who gets his introduction in Jessica Jones) but at this point we don't know much more about the show.
There's a rumored Luke Cage synopsis doing the rounds, however, and since the character is probably an unknown to mainstream audiences we'll indulge it, even if the description is basically just a condensed synopsis of early Marvel Comics issues.
Heroic Hollywood says this is the basic synopsis for the series:
Luke Cage is a former gang member who is framed for a crime. In prison, he volunteers for a medical experiment that goes awry, giving him super strength and bulletproof skin. Using his newfound powers, Cage escapes and becomes a hero for hire. His archenemy is Willy Stryker, a former childhood friend from Harlem. The two committed petty crimes together, and both fell for the same woman, Reva Connors, which led to their eventual falling out. It was Stryker who framed Cage for a drug deal that sent him to prison.
All of that should be pretty familiar to anyone who knows Luke Cage from Marvel Comics, as that's pretty much the guy's core story. Check the Marvel wiki, and the first couple paragraphs of the character bio are essentially summarized in that paragraph above. What we don't get is anything about how he uses his powers. But we can probably guess that, too.
"Hero for Hire," not coincidentally, was the name of Luke Cage's original solo comic book series from the '70s. That series was eventually retitled a couple times, first to Luke Cage, Power Man, then to Power Man and Iron Fist. Throughout that last incarnation, Cage was a partner in Heroes for Hire, Inc. alongside Danny Rand, aka Iron Fist, with the two offering private investigation services and protection for people in need.
Still, this leads to some questions. Is this synopsis really just background info for the series, or do we actually see these events play out? If the latter, is Luke Cage set before or after Jessica Jones? It might be both, as we know that Cage has powers in the Jessica Jones series, and Marvel's Jeph Loeb has said that Jessica Jones finds Luke Cage "not quite in the middle, but in the early part of the middle" of his story, while the Luke Cage series will "tell a great deal of story that happens before, and a great deal of story that happens afterwards."