Mr. Robot Season Finale Pushed Back Due To TV News Shootings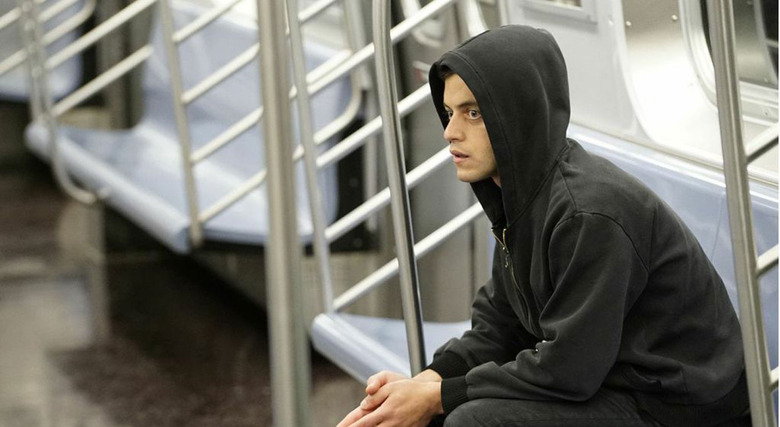 The Mr. Robot season one finale was supposed to air tonight, but USA Network has announced that they have decided to postpone the finale episode. The move was made due to the tragic shooting of two Virginia reporters during a live broadcast this morning — the episode apparently featured a very graphic on-camera shooting that might have been too similar to the this morning's tragedy.
As you know, a former reporter for television station WBDJ shot and killed two of his former colleagues, Alison Parker and cameraman Adam Ward, live on the air. A third victim, Vicki Gardner, was also shot but survived.  Its understandable that USA Network would like to respect the victims and also give time before presenting the final episode of the critically-acclaimed freshman drama.
USA Network issued a statement that said the following:
"The previously filmed season finale of Mr. Robot contains a graphic scene similar in nature to today's tragic events in Virginia. Out of respect to the victims, their families and colleagues, and our viewers, we are postponing tonight's episode. Our thoughts go out to all those affected during this difficult time."
Mr. Robot's first season finale will now air (in its entirely) next Wednesday, September 2nd 2015 at 10:00 pm. USA Network has decided to rerun last week's episode in the finale's place tonight during the show's regular timeslot.
If you aren't watching Mr. Robot, you should be. It's my favorite fictional television show currently airing, and would be my favorite television show on the air currently if Penn & Teller's Fool Us didn't exist. Well for those of you who are addicted to the show like I am, this might be some disappointing but understandable news. And for those of you who haven't started watching the series yet, you now have some more time to catch up before the season one finale. So go download the USA Network app on your streaming box of choice and get cracking.
The series has shades of Breaking Bad, as well as David Fincher's Fight Club and The Social Network. The show has one of the more accurate portrayals of hacking compared to other movies and television shows. Actually, in one episode they even make fun of the 1995 Iain Softley film Hackers, which has become sort of a cult classic but features some of the most ridiculous visualizations of hacking and the hacker community in all of popular culture.
Here is the official extended trailer for Mr. Robot:
Here is a preview of the first four minutes of the first episode of Mr. Robot:
MR. ROBOT follows Elliot (Rami Malek, "The Pacific"), a young programmer who works as a cyber-security engineer by day and as a vigilante hacker by night. Elliot finds himself at a crossroads when the mysterious leader (Christian Slater, "The Adderall Diaries") of an underground hacker group recruits him to destroy the firm he is paid to protect. Compelled by his personal beliefs, Elliot struggles to resist the chance to take down the multinational CEOs he believes are running (and ruining) the world. The series also stars Portia Doubleday ("Her"), Carly Chaikin ("Suburgatory") and Martin Wallström ("Simple Simon"). MR. ROBOT is produced by Universal Cable Productions, this contemporary and culturally resonant drama is executive produced by Sam Esmail ("Comet") and Anonymous Content's Steve Golin ("True Detective") and Chad Hamilton ("Breakup at a Wedding").