Yes, Vin Diesel Will Return As Groot For 'Guardians Of The Galaxy Vol. 2'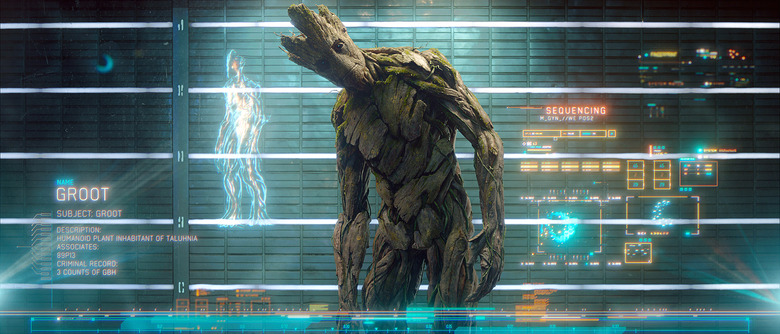 Not that there was ever much doubt, but just to be clear: Yes, Vin Diesel will return to voice Groot in Guardians of the Galaxy Vol. 2, as revealed by director James Gunn. Read about the Vin Diesel Guardians of the Galaxy Vol 2 return after the jump. 
Gunn confirmed Diesel's return in response to a fan question. (There was some initial confusion about whether the fan was asking about the as-yet-unannounced Guardians of the Galaxy Vol. 3, but both Gunn and the fan later clarified they were talking about 2.) It's obvious news, but good news nonetheless.
To be fair, there were some reasons to wonder whether Diesel might sit out the next chapter. Last we saw of Groot in Guardians of the Galaxy, he was a tiny sapling jamming out to the Jackson Five in secret, lest Drax murder him. It was at least theoretically possible that the sequel could feature a younger version of Groot with a different voice.
So now that we know what our favorite giant sentient space tree will sound like, the question is what he'll look like. On Earth, it'd take a plant years to get that big. But maybe in the Marvel Cinematic Universe, they grow much faster.
Gunn hasn't disclosed much about the plot of the new movie, but he's offered some general hints here and there. We know it's "a story about fathers," and that we'll get more insight into Star-Lord's paternity — which is not the same as it is in the comics. Yondu (Michael Rooker), Gamora (Zoe Saldana), and Nebula (Karen Gillan) are expected to play a bigger role.
We've heard the "risky" storyline is emotional enough to make Chris Pratt cry, and yet that the script is "funnier" than the last one. One of Gunn's favorite Marvel characters will make an appearance, but we can rule out Kang the Conqueror, the Shi'ar Empire, Captain Marvel, Venom, Gladiator, Bug, Rom: Spaceknight, and Richard Rider a.k.a. Nova. And in any case, we can count on more killer music. Tyler Bates will once again compose the score, to go along with more '70s and '80s hits.
Guardians of the Galaxy Vol. 2 will hit theaters on May 5, 2017. Also expected back are Dave Bautista and Bradley Cooper. Lee Pace, who played villain Ronan, will not return.