'Love The Coopers' Trailer: Ed Helms, Olivia Wilde And More Star In A New Christmas Comedy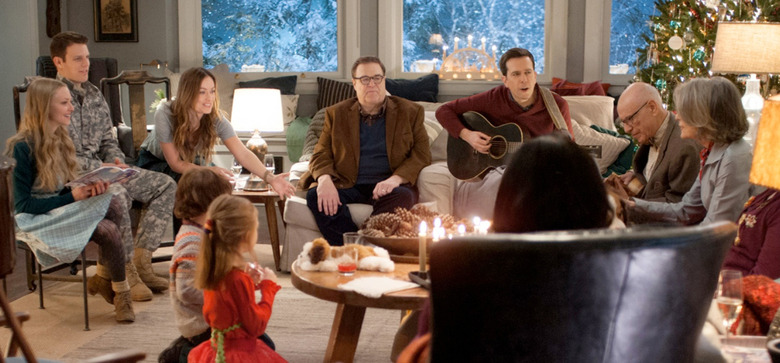 We're not anywhere near being able to say "Christmas is just around the corner." It's not even fall yet and all the pumpkin-spiced junk is hitting shelves along with Halloween decorations, but still, it's just a little too kooky to even start thinking about Christmas.
However, when you're a movie studio and you have to start promoting movies a few months out, you have to start parading the holiday movies way ahead of time. And that's where the Love the Coopers trailer comes into play, showing off a new Christmas comedy featuring the likes of Ed Helms, Olivia Wilde, Diane Keaton, Amanda Seyfried and more. Watch the trailer below!
Here's the trailer for Love the Coopers from Yahoo:
This is quite a departure from the raunchy comedy of the other Christmas comedy coming to theaters this holiday season, Jonathan Levine's The Night Before starring Seth Rogen, Joseph Gordon-Levitt and Anthony Mackie, but the latter just also happens to star in this film as well.
This looks like your typical holiday comedy about a dysfunctional family coming together for that special time of year. And this one is made all the more hectic by bringing four generations of Coopers together for Christmas. And as you would expect, there's plenty of shenanigans, strange family confrontations, and bonding to be had.
Even if this looks like every other family holiday comedy, this one does boast an impressive cast that includes Ed Helms, Diane Keaton, Amanda Seyfried, June Squibb, Marisa Tomei, Olivia Wilde, Jake Lacy, Anthony Mackie, Alan Arkin and John Goodman.
Honestly, it's the talent that comes together for these movies that often makes them worth watching, even with such familiar and derivative stories, so this could end up being something good to watch around Christmas every year. And if you liked Diane Keaton in The Family Stone, this one is from the same producer, but directed by Jessie Nelson (I Am Sam, Corrina Corrina).
Love the Coopers follows the Cooper clan as four generations of extended family come together for their annual Christmas Eve celebration. As the evening unfolds, a series of unexpected visitors and unlikely events turn to night upside down, leading them all toward a surprising rediscovery of family bonds and the spirit of the holiday.
The holiday comedy arrives on November 13th.