'Trash' Trailer: Stephen Daldry Embarks An Adventure In The Slums Of Rio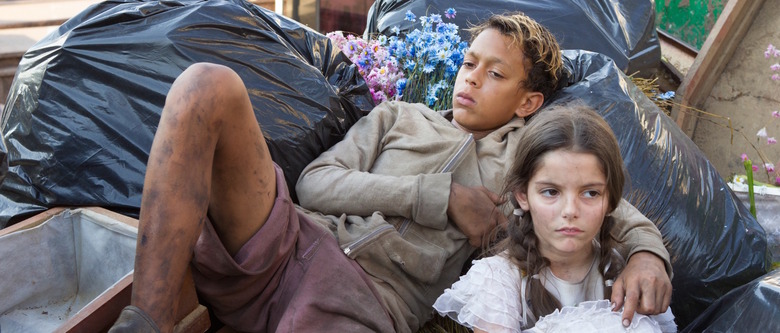 Perennial Oscar nominee Stephen Daldry is back this year with Trash, an adventure set in the slums of Rio de Janeiro. Though it features some well known, well regarded faces like Martin Sheen, Rooney Mara, and Wagner Moura, the real stars of the film are a trio of young unknowns.
Rickson Tevez, Gabriel Weinstein, and Luis Eduardo play three favela kids who spend their days picking through trash. One day they come across a wallet that happens to be of interest to some powerful and potentially dangerous people, sending them on an exciting adventure. Christian Duurvoort co-directed. Watch the Trash trailer after the jump.
Yahoo unveiled the new Trash trailer.
Trash had its world premiere nearly a year ago at the Rio de Janeiro Film Festival, but hasn't built up much buzz since then. While the trailer has its charms, particularly when the kid actors are onscreen, but there's not much that's very memorable about it. This one looks likely to get buried under the onslaught of prestige pics that hit each fall.
Then again, I would've guessed the same thing about Daldry's Extremely Loud and Incredibly Close, and that one snagged a Best Picture nomination. Clearly, I have no idea what I'm talking about.
Trash opens October 9.
When two trash-picking boys from Rio's slums find a wallet in amongst the daily detritus of their local dump, little do they imagine that their lives are about to change forever. But when the local police show up, offering a handsome reward for the wallet's return, the boys, Rafael (Rickson Tevez) and Gardo (Luis Eduardo), realize that what they've found must be important. Teaming up with their friend Rato (Gabriel Weinstein), the trio begins an extraordinary adventure as they try to hang onto the wallet, evade the police, and uncover the secrets it contains.
Along the way, the boys will have to figure out friend from foe, as they piece together the story of the wallet's owner José Angelo (Wagner Moura) and realise they can't trust the police, led by the dangerous Frederico (Selton Mello). But a pair of American missionaries working in their favela – the disillusioned Father Julliard (Martin Sheen) and his young assistant Olivia (Rooney Mara) – might just have the power to knock on the right doors.