Cool Stuff: Laurent Durieux's Godzilla Print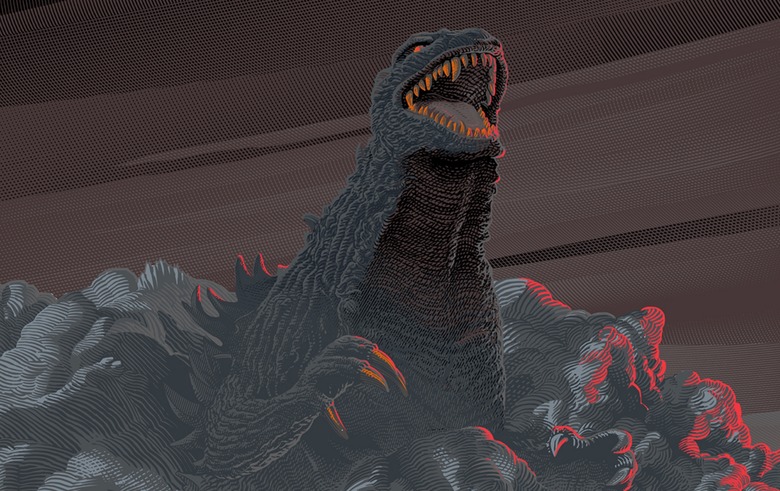 Dark Hall Mansion is partnering again with Laurent Durieux on a Godzilla print, the latest addition to their Seminal Film Series. The officially licensed Godzilla limited edition print release takes on the original 1954 Japanese landmark film and goes on sale this Friday, August 28th 2015. See both the regular and variant versions and get more information on the Laurent Durieux Godzilla print, after the jump.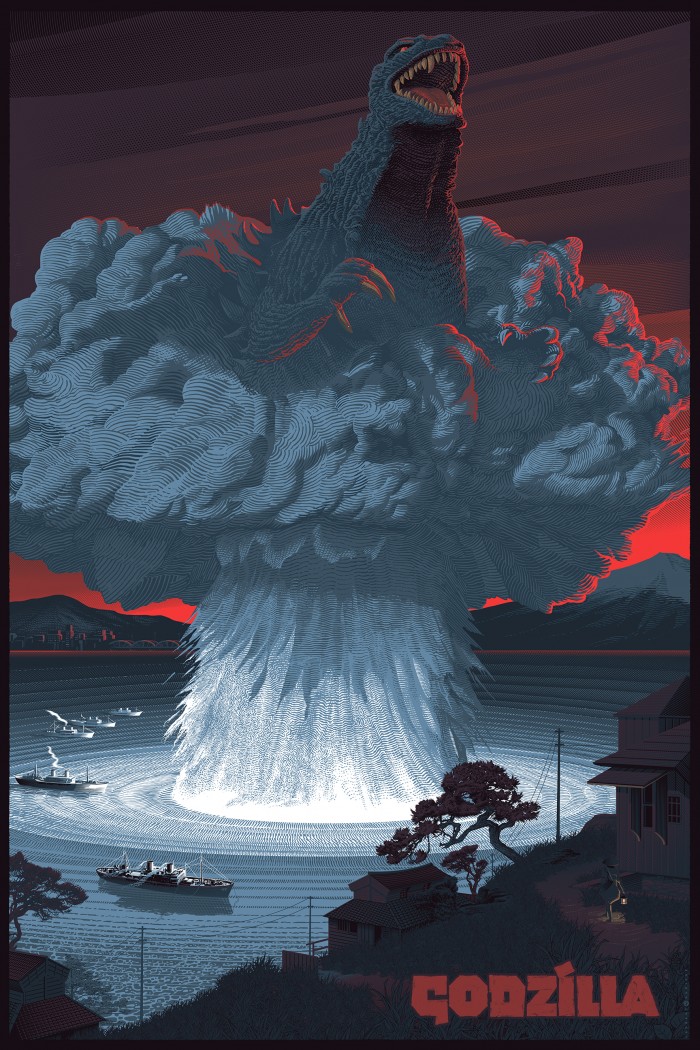 The Laurent Durieux GODZILLA Standard edition is printed on 24? X 36? paper in a limited edition of 350 and will be sold for $65. The same artwork will be released in a "Select Foil Edition" of 20 for $150.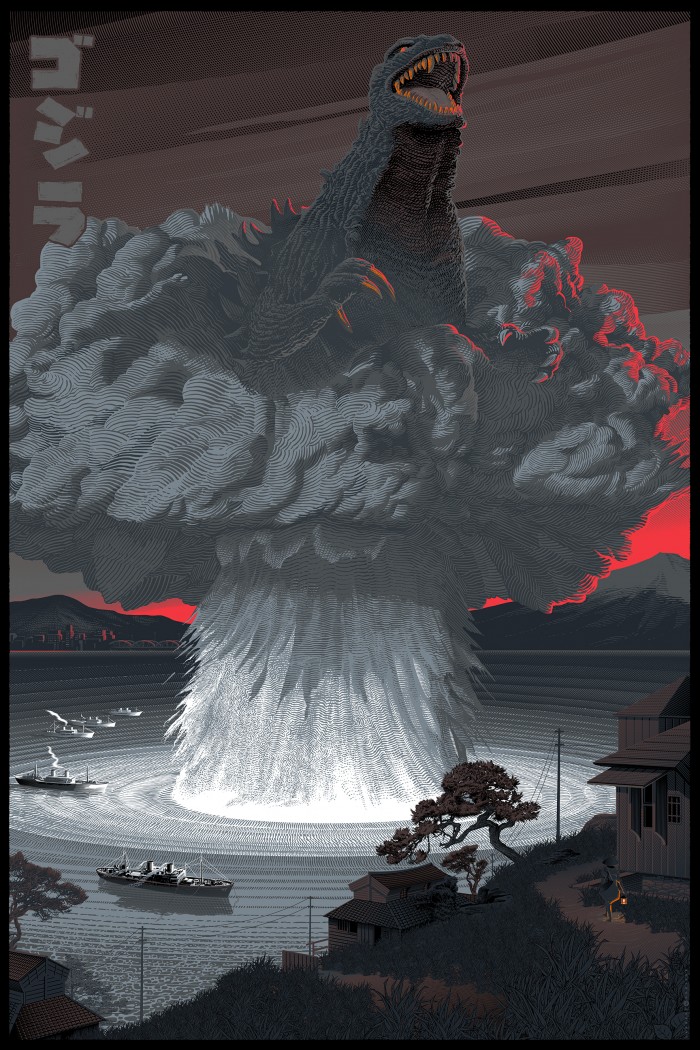 The Laurent Durieux GODZILLA Variant edition is also printed on 24? X 36? sized paper and will be limited to 125 and sold for $100 each. The variant artwork will also be available in a "Select Foil Edition" of 20 for $150, and a "Select Giclee Printed on Canvas Edition" of 15 for $275.
Laurent Durieux did a short interview with Blurppy talking about the new print, and revealed his inspiration behind it:
The hardest part for me was to come up with an image that would go beyond just a city destroying monster flick. I believe that though Godzilla's first goal was to scare the audience in a entertaining fashion, the movie theme goes deeper than that just that. The movie was released in 1954, so 9 years only after both Hiroshima and Nagazaki nuclear blasts. Imagine that! So for me, Godzilla (who became a destroying monster because of the submarine nuclear tests) conveys an entire and more poignant message. What if "Godzilla" was some sort of catharsis about the atomic horror the Japanese have suffered? A way for the Japanese to turn the page and move on. It also most definitely is a way of saying, Hey Nuke power is dangerous when it goes out of control, it backfires at the humanity in most devastating ways, trust us, we've been there! So rather than depicting a monster spitting flames and destroying the city, I wanted to emphasize this angle, the historic/social interpretation of the movie. Naturally "Gojira" was born out of a nuclear blast and that's exactly what I drawn. I wanted to depict a contrast of the quiet landscape of the ancestral Japan with the modern day horror at its worst.
Durieux also revealed that the man carrying the lantern in the image is actually a subtle easter egg: "The lantern in Japan is used mainly for celebration, 2015 is the celebration of the 70th anniversary of Hiroshima and Nagazaki disaster." Durieux also reveals he has not watched the Godzilla remake, so this imagery is solely based on the original film.
Here is the information from Dark Hall Mansion:
Dark Hall Mansion, under license from Warner Bros Entertainment, will release one of the most influential and classic of all Sci-Fi films, "Godzilla." First appearing in 1954, "Godzilla's" impact and influence on worldwide culture is both inescapable and undeniable, yet it's Laurent's treatment of the film's serious underpinnings that moved us in his conceptualization and rendering of something different, something serious and more resonant via his piece. Godzilla's origin is inextricably tied to nuclear radiation and with Laurent's depiction of Godzilla's symbolic rise from the unmistakable shape of a nuclear blast's mushroom cloud, the horrors of nuclear war and nuclear weapons proliferation are powerfully driven home. We were taken with Laurent's quiet pastoral landscape that splits time via a distinct before and after moment, one that was very real and very much on the minds of Japan's society in 1954, just nine years after the bombings of Hiroshima and Nagasaki, and one that is still very much with us and on the minds of all today.
The essence of DHM's Seminal Film Series is to showcase an artist's work in print in a manner this is visually striking, compelling, and hopefully at times, provocative. We feel Laurent has done just that with his "Godzilla," his pieces here not just entertain but provoke thought and consideration. His Standard edition's color palette evocatively underscores his visual's powerful thematics while his Variant edition has a darker intensity harkening to the film's black and white origins, its visuals strikingly offset with only Godzilla's name rendered via kanji.
Information on Dark Hall Mansion's Seminal Film Series:
The aim of Dark Hall Mansion's Seminal Film Series is the very bridging of cinema as art and art as cinema. To create beautiful art prints for some of the most resonant American and international films, distilling film and imagery while beholden to no specific screening or advertising obligations. Our aim right from the onset was to honor the tradition of vintage film posters while simultaneously releasing our commissioned artists from most studio commercial constraints. The single goal, to create stunning pieces that are stand alone works of art, the very essence of each film distilled and rendered in such a fashion that anyone, even on the most cursory of viewings, will at once appreciate the prints for their visual beauty or in the historical context of what made these films so relevant in the first place. Gerard Pallares – President/ Dark Hall Mansion