Jennifer Lawrence And Amy Schumer Are Working On A Movie Together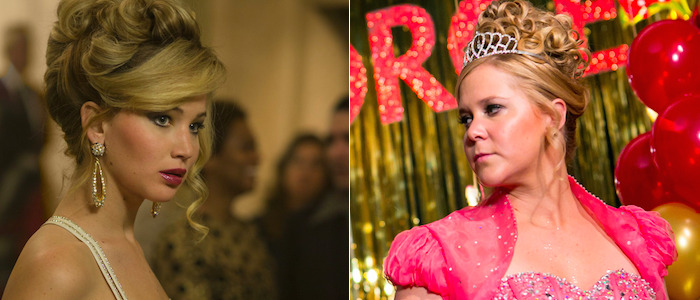 Earlier this summer, Jennifer Lawrence and Amy Schumer made the whole world jealous by sharing photos of themselves jet-skiing, building human pyramids, and generally living it up with each other. As it turns out, though, they're not just playing together — they're also working together on a new project.
According to Lawrence, they're "almost done" writing the screenplay, and plan to co-star in the as-yet-unnamed movie. Get all the details on the Jennifer Lawrence Amy Schumer project after the jump. 
Lawrence announced the new project during a chat with the New York Times:
We play sisters. We're almost done writing. It just flowed out of us. We've got about 100 pages right now.
Amy and I were creatively made for each other. We have different flavors. It's been the most fun experience of my life. We start the day off on the phone, laughing. And then we send each other pages. And we crack up. I'm flying out tomorrow to see her in Chicago. We'll write a little bit with her sister, Kim, who worked with Amy when she was writing 'Trainwreck.'
The actresses met earlier this summer when Lawrence emailed out to Schumer to compliment her on Trainwreck. "We started emailing, and then emailing turned to texting," she said. "We really hit it off, to say the least."
Lawrence didn't divulge any further details on the new movie, but it already sounds like a potential departure for her. Though she got her start on the sitcom The Bill Engvall Show — and though she's demonstrated a great sense of humor in her press appearances — Lawrence has yet to do a straightforward comedy film. The closest she's come is dramedies like David O. Russell's Silver Linings Playbook. The new movie will also be Lawrence's first screenplay, as far as we know.
Schumer just got her first feature screenplay credit for the aforementioned Trainwreck, though she's been writing for her own TV show and others for years. Trainwreck also marked her first lead performance in a movie. The romcom grossed $122 million, making it Judd Apatow's biggest hit as a director since Knocked Up.
As of yet, we don't know who might direct this mysterious Jennifer Lawrence Amy Schumer project, or when it might come out. Since the project is still in the very early stages, there's always the chance it won't happen at all — though it's hard to imagine no studio would be interested in making a movie with two of today's hottest young stars.
Relive Lawrence and Schumer's magical summer together below: