Bruce Willis Suddenly Drops Out Of Woody Allen's New Movie, But Why?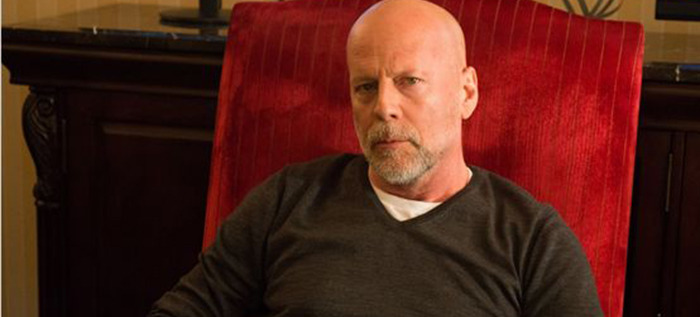 Just a few weeks ago, the full ensemble cast of Woody Allen's untitled 2016 movie was revealed as production was close to beginning in Los Angeles and New York. But one of those cast members has suddenly departed the movie.
Bruce Willis was named as being part of the movie along side the likes of Jesse Eisenberg, Blake Lively, Parker Posey, Kristen Stewart, Corey Stoll, Anna Camp and more. However, Willis is no longer part of the producton, and there's some conflicting information about Bruce Willis leaving Woody Allen and his new movie behind.Deadline reported on the matter by saying that this was merely a scheduling conflict. Willis is supposed to star in a Broadway adaptation of Stephen King's Misery, and his work on that production will interfere with shooting Allen's movie. However, it's not as if Willis' commitment to the play is something new, and this is something that surely would have been determined before the film started shooting. After all, we knew about his role in the play back in March, so this shouldn't have been a surprise.
And that's exactly why this is so fishy. Some photos of Willis on the set of Woody Allen's new movie just surfaced this week as the film is shooting in Los Angeles. So this clearly isn't just a matter of scheduling because Willis was already shooting his role. Jeff Sneider from The Wrap seems to know something else happened behind the scenes because he mentioned on Twitter that Willis was actually fired from the movie.
It wouldn't be surprising to hear that a neurotic, very specific, and eccentric director like Allen had trouble getting what he wanted out of Bruce Willis. It wouldn't be the first time we've heard stories from a director saying that Willis is difficult to work with as Kevin Smith and Antoine Fuqua, who directed Willis in Cop Out and Tears of the Sun respectively, have both said that the Die Hard star is quite a handful on set.
Plus, allen has been known to switch out actors in his movies before. For example, he replaced Michael Keaton in The Purple Rose of Cairo with Jeff Daniels after the movie had already been shooting for 10 days. Woody Allen is just one of those directors who knows exactly what he wants, and if he's not getting it, then that's that.
For now we don't have all the facts on why Willis is no longer part of Woody Allen's new movie, but the director will work quickly to recast the role so his movie can stay on schedule and still arrive sometime in 2016. Otherwise, we'll have to wait to find out more about the movie as usual.