Seattle's Real-Life 'Up' House Getting Its Own Movie From Fox Searchlight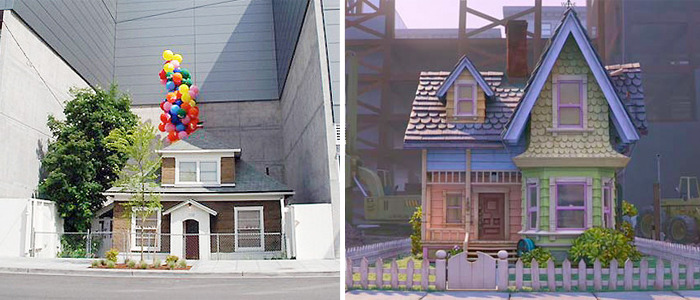 The real-life Up house may be the subject of its own movie. Fox Searchlight has picked up an untitled project by John Whittington about Edith Macefield, a Seattle woman who made headlines when she became the lone holdout in a neighborhood bought out by a commercial development. Learn all about the Up house movie after the jump. 
THR reported the news. Will Gluck (Easy A, Annie) will produce, but as of now isn't signed on to direct. Jodi Hildebrand will also produce.
Although Pixar has steadfastly denied that Up was inspired by Macefield, her house became forever linked to the movie when Disney publicists tied balloons to the roof as a fun bit of marketing ahead of the film's 2009 release. Macefield herself had actually passed away in 2008.
Macefield's house had stood in Seattle for nearly a century when, in 2006, an investment company started purchasing all the property in her neighborhood to build a new shopping mall. Macefield, however, refused to sell, even turning down a $1 million offer for her 1,000-square-foot house.
As construction on a new five-story building proceeded around her house, she befriended Barry Martin, the supervisor in charge of the project. When Macefield died, she willed her house to Martin.
The Up house movie is envisioned as a comedic drama centered on Martin and Macefield's unlikely friendship, exploring "how each changed the other's life, and how living a life with dignity is a basic human need." In 2013, he published a book titled Under One Roof about his time with Macefield, which will serve as source material for the film.
As a side note: Recently, we heard the home was in danger of getting demolished. However, a non-profit organization is working to save the house by moving it to a new location. Which is kind of what happened to Carl's house in Up, too — he up and moved it to Paradise Falls. Unfortunately, the laws of physics prevent Macefield's house from traveling via balloon the way Carl's did, so it will be transported by barge instead.