Sequel Bits: 'Star Trek Beyond', 'Ghostbusters', 'World War Z 2', 'Jack Reacher', 'Mockingjay', 'Kung Fu Panda 3'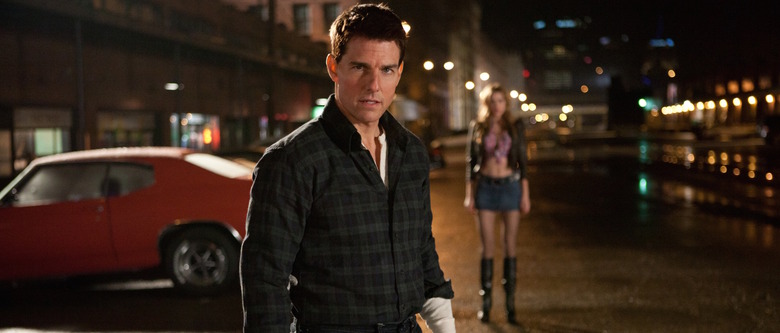 We've got new posters, clips, promos, really long pitches for movies that'll never get made... you name it. After the jump:
Turns out we already saw those new Star Trek Beyond uniform weeks ago
Chris Hemsworth shares a selfie to mark the end of Ghostbusters shooting
Steven Knight has just completed the latest draft of World War Z 2
Ed Boon reveals the Terminator was considered for Mortal Kombat X
Director Ed Zwick teases some impressive action for Jack Reacher 2
Katniss and company stand tall in a new Hunger Games: Mockingjay banner
Bryan Cranston pays homage to Star Wars in the latest Kung Fu Panda 3 promo
Thomas sits down for a chat in the first Maze Runner: The Scorch Trials clip
Max Landis reveals what his American Ultra 2 and Chronicle 2 would have been
***
That Star Trek Beyond set video was notable for its reveal of the new Starfleet uniforms — but as it turns out, we actually saw them for the first time several weeks back. Here's a photo posted last month by Zachary Quinto:
It didn't look like much at the time, but now we can see it matches Scotty's red shirt from the set video. Star Trek Beyond opens July 8, 2016. [via Birth.Movies.Death.]
***
Chris Hemsworth is done shooting his role as Kevin the receptionist in Paul Feig's girl-powered Ghostbusters. To mark the occasion, he posted a selfie from the set.
Just wrapped @Ghostbusters. Such an amazing cast and director. Had a blast. Never laughed so much in my life. pic.twitter.com/49M2DZesnw

— Chris Hemsworth (@chrishemsworth) August 21, 2015
No Ghostbusters uniform for him here, but that's a pretty fetching hat. Ghostbusters opens July 15, 2016. [Twitter]
***
World War Z 2 is moving along swimmingly, apparently. Screenwriter Steven Knight says he's just completed the latest draft of the screenplay. And while he won't give away any plot details, his comments on his favorite parts of the first film might provide some hints:
I think the beauty of the first film was the way that it never paused for breath. It never spent a moment thinking, 'Hang on a minute, we'd better tell the audience what this is all about.' It stayed in the moment, it stayed with that person.
World War Z 2 arrives June 9, 2017 with J.A. Bayona directing. [Collider]
***
Mortal Kombat X features Jason Voorhees and Predator as playable characters, and now it turns out another '80s favorite was originally eyed for the franchise. Mortal Kombat co-creator Ed Boon says at one point, they were considering bringing the Terminator on board as well.
"@Desolater48 The Terminator wants to join our game ed boon @noobde http://t.co/gmsVzn3rdh EB: That conversation DID happen!

— Ed Boon (@noobde) August 21, 2015
Clearly it didn't work out, for whatever reason, but now we all know to dream about what could've been. [via Bleeding Cool]
***
Tom Cruise was last seen engaging in some insanely dangerous stunts for Mission: Impossible – Rogue Nation. But he'll be going more down-to-earth for Jack Reacher 2, says director Ed Zwick:
It's going to be very grounded. The emotions are grounded. The action is grounded. Mission: Impossible 5 is an extraordinary accomplishment of a very particular kind, and we would be foolish, I think, to try and replicate it for a different genre. So this is going to be itself.
Not that Jack Reacher 2 will skimp on impressive daredevil action. Zwick teases:
I think there will be something particular, maybe not as grand and as operatic as hanging from a plane, but I think it will really be yet another version of some of those kinds of things that he's done.
Jack Reacher 2 begins shooting — on film — in New Orleans this October. No release date has been set, but it's expected out in late 2016 or so.
***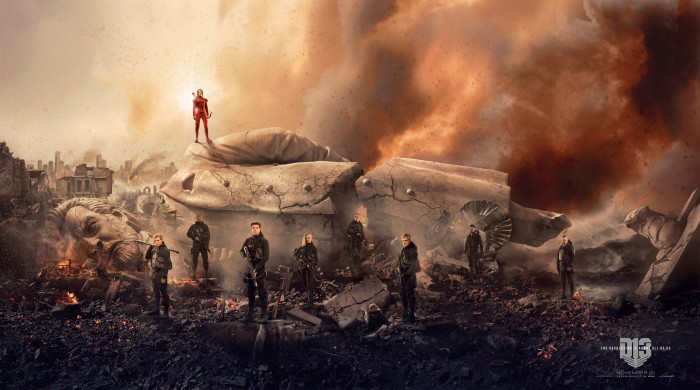 "Snowfall" takes on a whole new meaning in this The Hunger Games: Mockingjay – Part 2 banner. Katniss Everdeen (Jennifer Lawrence), in a fiery red uniform, stands atop a toppled statue of President Snow, while allies like Finnick (Sam Claflin), Gale (Liam Hemsworth), Cressida (Natalie Dormer), and Peeta (Josh Hutcherson) stand below her. The Hunger Games: Mockingjay – Part 2 arrives November 20. [Lionsgate]
***
Kung Fu Panda 3 gets in on the Star Wars hype with a new promo.
Yeah, it's cheesy, but it works. It helps that the gag is done in good humor, and executed by the irreproachable Bryan Cranston. Po should just be glad his dad didn't decide to channel Walter "The One Who Knocks" White instead. Kung Fu Panda 3 drops into theaters January 29, 2016. [DreamWorks]
***
WCKD official Janson (Aiden Gillen) pays young hero Thomas (Dylan O'Brien) in the first Maze Runner: The Scorch Trials clip. Thomas looks wary, as well he should. Maybe he's seen Game of Thrones and knows better than to trust this guy.
Maze Runner: The Scorch Trials opens September 18, 2015. [MTV]
***
The limp box office for American Ultra makes a sequel unlikely, but screenwriter / self-described "idea machine" Max Landis had an idea for one anyway. According to him, American Ultra 2 would've put Kristen Stewart's Phoebe at the center of the action:
It went more into why Phoebe would give up her life (for Jesse Eisenberg's character Mike). American Ultra might not make enough money for a sequel, but the sequel is a Kristen Stewart action movie. Mike at the very beginning gets taken away and hypnotized, reprogrammed, by a bad guy—so Jesse and Kristen are apart the whole movie. It's Kristen against everyone. But that's a dream. And I've learned my lesson after Chronicle. These worlds are so big in my head. These characters are so real, and I can tell you anything about them. And then something doesn't make enough money.
Meanwhile, he has not one but two pitches for Chronicle 2 (which is similarly unlikely to happen, at least the way Landis wants it to). Here's the first one, which would've retconned the ending of Chronicle 1:
It begins in the storm with Steve (Michael B. Jordan). Lightning is going behind Steve and you hear Andrew (Dane DeHaan) going, 'Leave me alone!' and then you hear Matt (Alex Russell) go, 'What's going on? You have to come down right now!' The next shot is the sun is rising over Seattle, they're on a cliff outside the city, the camera's been put down all the way, laying on the ground. Dane is going, 'You don't understand, my mom is really sick and I hate my dad, I've got to get out of the house—'
[...] Matt goes, 'Dude, you're my cousin. Stay with us. Get the fuck out of there.' Andrew's like, 'I'm sorry, I feel like I'm going crazy' and Matt's like, 'It's okay, man, we're here for you.' And Steve's like, 'First things first—enough with this fucking camera.' He turns it off, and the title comes up: Chronicle 2.
(You can get the rest of the story here, but suffice it to say it involves the guys discovering time travel.)
His other Chronicle 2 pitch is one we've heard about before — Martyr — but Landis offers more detail here. The lead character would've been Miranda, a schizophrenic woman who becomes a supervillain. After the death of her anarchist boyfriend, she battles superhero Matt (from the first film). Landis continues:
There's this really interesting moment where she's turned into this supervillain, she has a mechanized suit—like a real thing they can build now that would cost $20 million, but if you're a genius you can do it—and she's totally insane, living in this house with garbage everywhere, filming herself and talking to the camera on drones like it's her boyfriend. It's one of my better scripts. It's very dark. It's not Chronicle. It has a much happier ending than Chronicle!
Meanwhile, Chronicle 2 may still happen without Landis — as of last year, Fox had tapped Jack Stanley to pen the script. [The Daily Beast]