Michael Stuhlbarg Outlines 'Steve Jobs' Unusual Rehearsal And Shooting Process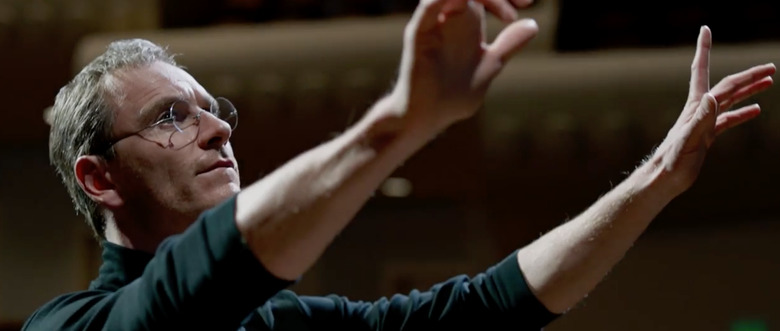 We've already known Danny Boyle and Aaron Sorkin's Steve Jobs would break the typical biopic mold. The film reportedly consists of just three major scenes, each set at a product launch, with a small handful of flashbacks to help fill out the rest of the story.
Now actor Michael Stuhlbarg reveals the project's atypical structure extended to the process of making the movie as well. Read on for Stuhlbarg's comments on the Steve Jobs rehearsal and shooting experience.
Stuhlbarg, who plays original Apple Macintosh employee Andy Hertzfeldt, outlined the unusual Steve Jobs rehearsal and shooting process in a conversation with Collider.
[T]he Steve Jobs rehearsal process was unlike anything I've ever done to this point and probably unlike anything I'll ever do again. Aaron Sorkin wrote it very much like a three-act play, and each act was a launch of a new product. So we rehearsed each act for two weeks and then we shot for two weeks; then we rehearsed for two weeks and shot for two weeks; then we rehearsed for two weeks and then we shot for two weeks.
And that was amazing because by the time we were ready to shoot, we were really, really ready, and it brought us all together in an extraordinary way. Also, it kind of gave us something in the telling of the story that you don't often get, which is a sense of momentum, of what a story is telling you. He got the opportunity to get the barrage of nonsense that was being thrown at him throughout the entire story. It was just unlike anything I've ever done before.
The process Stuhlbarg describes wouldn't work for every movie, but it seems like a good fit for Steve Jobs since it's essentially just three scenes. And it's not hard to see how being able to dig into one key moment at a time – rather than skip from scene to scene and subplot to subplot, as most productions do – could help the actors inhabit their roles.
In addition, Stuhlbarg revealed, Sorkin continued to fine-tune the script throughout the shoot, even incorporating on-set flubs.
He was sitting with us in the room while we were rehearsing, so he would say "That little flub or something you just happened to do? Let's add that in," or "Say that word and then a comma and then a dot, dot, dot, and say it again afterwards." So he was constantly refining and retooling. The specificity was insane and I loved that because they hear it a different way, or they hear it the way they want us to do it. I want to completely please the playwright/screenwriter.
Overall, it sounds like Steve Jobs really went out of its way to bring out the best performances from its actors — not that we expected anything less than great from this team to begin with. It's just another reason to look forward to Steve Jobs when it arrives October 9, 2015.