Sofia Coppola And Kirsten Dunst May Reteam For A New Movie In 2016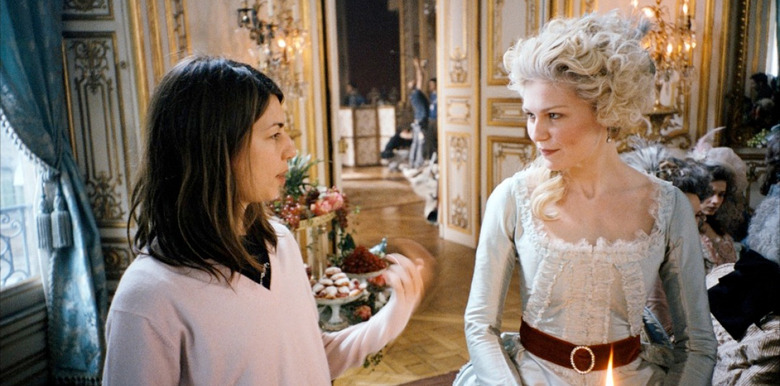 Since directing the teenage thieving romp The Bling Ring, director Sofia Coppola has been pretty low key on the filmmaking front. While she was initially slated to direct an adaptation of The Little Mermaid at Universal, she
fell away from the project back in June
this summer. And the only definitely project she has coming up is a Netflix Christmas special
starring her Lost in Translation lead Bill Murray
.
However, some new information has come to light pointing to a new Kirsten Dunst Sofia Coppola project sometime in 2016, which would mark their third time working together following The Virgin Suicides and Marie Antoinette.
(via
) recently had an interview with Kirsten Dunst, and while they don't have a direct quote from the actress, their profile on the Spider-Man star mentions that "There's also talk of a third film with Sofia Coppola in 2016." But unfortunately that's all there is to say on the matter. So do we have any idea what this project could be?
Well, a somewhat educated guess could point to an adaptation of Fairyland: A Memoir of My Father, written by Alysia Abbott. Here's the official synopsis of the book:
After his wife dies in a car accident, bisexual writer and activist Steve Abbott moves with his two-year-old daughter to San Francisco. There they discover a city in the midst of revolution, bustling with gay men in search of liberation—few of whom are raising a child.
Steve throws himself into San Francisco's vibrant cultural scene. He takes Alysia to raucous parties, pushes her in front of the microphone at poetry readings, and introduces her to a world of artists, thinkers, and writers. But the pair live like nomads, moving from apartment to apartment, with a revolving cast of roommates and little structure. As a child Alysia views her father as a loving playmate who can transform the ordinary into magic, but as she gets older Alysia wants more than anything to fit in. The world, she learns, is hostile to difference.
In Alysia's teens, Steve's friends—several of whom she has befriended—fall ill as AIDS starts its rampage through their community. While Alysia is studying in New York and then in France, her father tells her it's time to come home; he's sick with AIDS. Alysia must choose whether to take on the responsibility of caring for her father or continue the independent life she has worked so hard to create.
Coppola was attached to the film as a writer back in December of 2013, but we haven't heard anything about the project since then. There's a chance she has come on board to direct the movie now, but at the same time, it sounds like Dunst would be too old to take the lead role in this story, so unless she's just taking a support role, this probably isn't the project to reteam Coppola and Dunst.
Otherwise, the only other option is that Coppola is working on something completely new that we haven't heard about just yet, which would actually be pretty great. Coppola is a unique voice in cinema, and it's been a few years since we've gotten a new film from her, so anything that gets her behind the camera sounds good to me.
As for Dunst, we'll see her this fall in the
second season of the FX series Fargo
, as well as Jeff Nichols' forthcoming sci-fi film Midnight Special, expected in theaters on March 18th, 2016. If she ends up working with Sofia Coppola again for sure, we'll be sure to let you know when more information becomes available.