'Star Wars: Rogue One' Helmets Revealed?

Now that Star Wars: Rogue One is in production (set photos have begun to leak online), and the Mission: Impossible Rogue Nation embargo is officially over, Disney has begun promoting the film at D23 Expo 2015 where they revealed the film's full cast along with a cast photo. Rogue One co-star Donnie Yen has posted an image of new helmets on his instagram account. Are these new helmets from Star Wars: Rogue One? We believe so.
Donnie Yen posted the following photo on his official instagram account (found via JediNews):
The photo was accompanied with the note: "I am the force and I fear nothing ???? Going to put this in my company's display room." Here are the helmets at a higher resolution: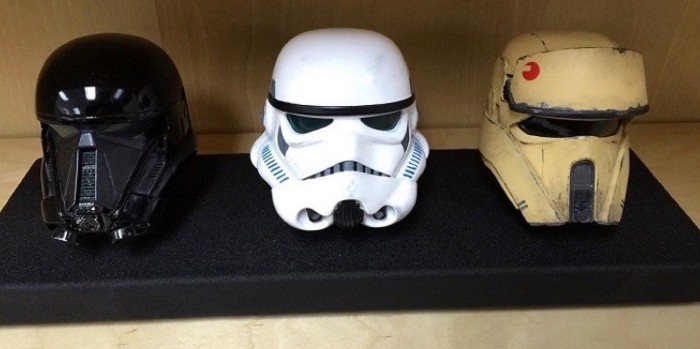 The helmet in the middle is of course a Stormtrooper helmet from the Star Wars: A New Hope era, which Star Wars: Rogue One takes place within. The helmets on either side of the classic Stormtrooper helmet are new to the Star Wars universe, and most likely helmets we will see in Gareth Edwards Rogue One: A Star Wars Story. I love how much these helmets call back to the 1970's era of sci-fi design.
As the Star Wars: The Force Awakens Stormtrooper helmets were inspired by Ralph McQuarrie's early Star Wars concept art: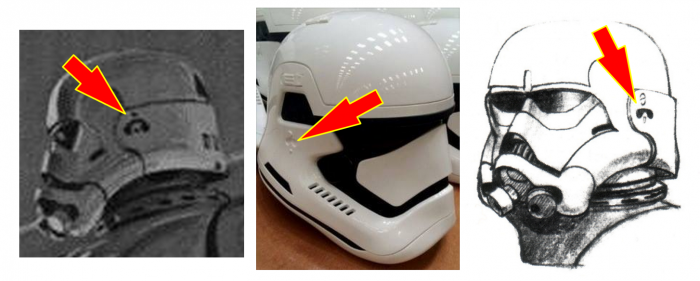 These new designs also seem partially inspired by McQuarrie's work, although nothing very specific. For example, here is Ralph McQuarrie's early concept design for a Cylon in the original Battlestar Galactica: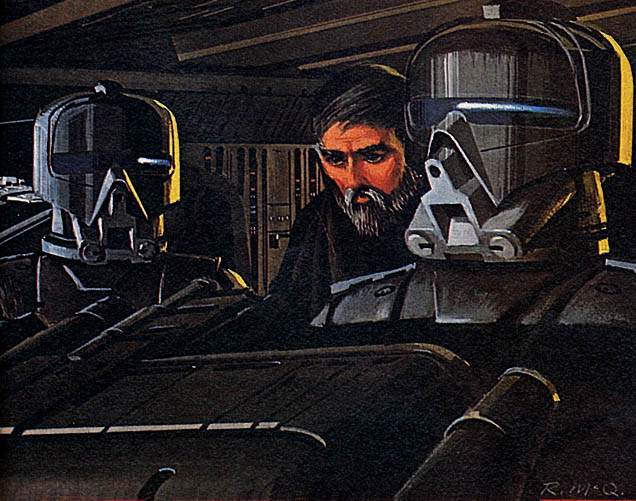 Here is McQuarrie's early concept art for Boba Fett: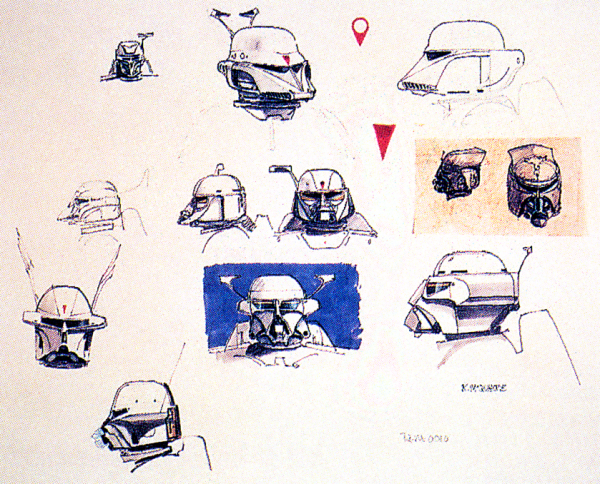 The third design seems to borrow a lot of the Biker Scout elements.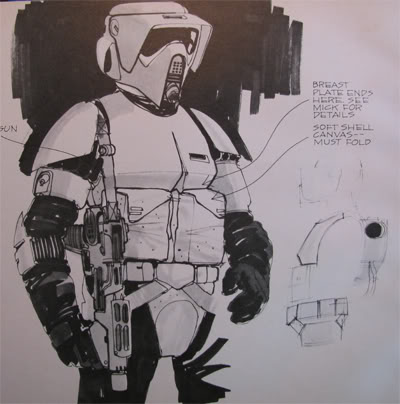 The red circle symbol does appear to be from Star Wars canon.
Ross Adams comments that the helmet on the right "appears to have a Blast Shield (which seems a little odd) or maybe just a visor to protect against sand." And that "Its colour and heavy weathering to me would kind of fit with it being used on a desert planet (seen in Rogue One set leaks)." He speculates that he could imagine Wen Jiang's character wearing that helmet aesthetically as it would fit his outfit from the cast photo. But yeah, thats just a wild guess at this point. I would think that this was given to Donnie Yen as a production gift because it relates to his character and story in some way, so maybe he wears one or all of these helmets during the film. Again, another wild guess.
Rogue One is set between the films Star Wars: Episode III: Revenge of the Sith and Star Wars: Episode IV: A New Hope, during the Age of the Empire. Gary Whitta and Chris Weitz wrote the screenplay based on an idea by John Knoll.  We were the first to tell you that Star Wars: Rogue One would be a heist movie about a group hired by the rebel alliance to try to steal the plans to the Empire's greatest weapon. Here is the official synopsis released by Disney:
"Rebel spaceships, striking from a hidden base, have won their first victory against the evil Galactic Empire. During the battle, Rebel spies managed to steal secret plans to the Empire's ultimate weapon, the DEATH STAR, an armored space station with enough power to destroy an entire planet." – from the opening crawl of Star Wars: Episode IV A New Hope
Felicity Jones stars as a Resistance soldier (possibly a character we already know), and Riz Ahmed, Diego Luna, Donnie Yen, Jiang Wen will play Resistance characters as well. There is a theory that Luna may be playing Biggs Darklighter. Forest Whitaker and Mads Mikkelsen have unknown roles in the film. Ben Mendelsohn is expected to play a villain. Alan Tudyk will play a motion capture character. In addition, Jonathan Aris might have a role in the film. Alexandre Desplat, and not John Williams, will write the score for Rogue One. Darth Vader will make some sort of appearance in the film.
Unlike the previous live-action Star Wars films, Rogue One will not revolve around the Jedi or the Force. Edwards described the film at Celebration Anaheim as existing in a more "gray" area than the black and white of the original trilogy, touting that the film would feel "Real...This is a real place that we're really in."
Filming has begun in London at Pinewood Studios. Star Wars Anthology: Rogue One opens December 16, 2016.