'Kill Your Friends' Trailer: Nicholas Hoult Will Kill For Platinum Glory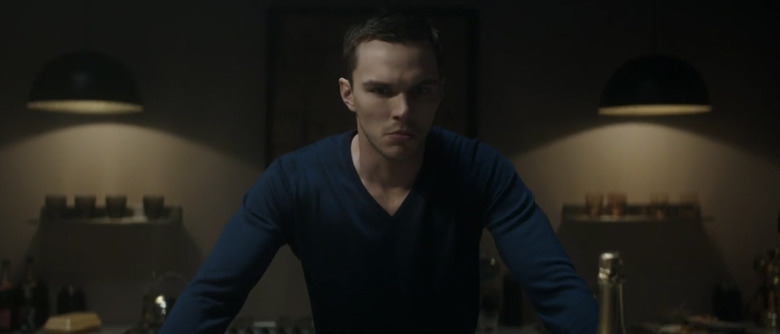 This weekend brings Zac Efron's aspiring DJ movie We Are Your Friends, but the United Kingdom has a literally more cutthroat story set in the music industry.
Kill Your Friends is a new dark comedic thriller starring Nicholas Hoult and based on John Niven's best-selling novel of the same name, and the first Kill Your Friends trailer has just arrived before the film's debut at the Toronto International Film Festival. But beware, the trailer is a little NSFW with some brief glimpses of nudity and also F-bombs.
Here's the trailer for Kill Your Friends from Studio Canal UK:
To me this feels like a blend of Trainspotting, Entourage and American Psycho, and it looks like a very promising blend of dark comedy and bloody thrills. Nicholas Hoult is showing us a performance that we haven't seen him deliver before, not quite as crazy as his War Boy character Nux from Mad Max: Fury Road, though very much departed from his more reserved, mutant scientist character Hank McCoy (aka Beast) in the X-Men franchise.
The rest of the movie has a solid cast from across the pond that includes new late night host James Corden, Georgia King, Craig Roberts, Tom Riley, Joseph Mawle, Edward Hogg, Ed Skrein, Moritz Bleibtreu, and Rosanna Arquette. At the helm is Owen Harris, a television director making his feature film debut, directing the film from a screenplay written by the source material's author John Nivens, so this should be a rather loyal adaptation of the book.
Here's a couple posters for the movie debuting at TIFF next month:
London, 1997; the British music industry is on a winning streak. Britpop bands Blur, Oasis, Radiohead rule the airwaves and Cool Britannia is in full swing. 27-year-old hit chasing A&R man Steven Stelfox (Nicholas Hoult) is slashing and burning his way through the music business, a world where 'no one knows anything' and where careers are made and broken by chance and the fickle tastes of the general public – "Yeah, those animals".
Fueled by greed, ambition and inhuman quantities of drugs, Stelfox searches for his next hit record amid a relentless orgy of self-gratification. Created by an industry that demands success at any price, as the hits dry up and the industry begins to change, Stelfox takes the concept of 'killer tunes' to a murderous new level in a desperate attempt to salvage his career.Kill Your Friends is a dark, satirical and hysterically funny evisceration of the Nineties music business. A time and place populated by frauds, charlatans and bluffers; where ambition is a higher currency than talent, and where it seems anything can be achieved – as long as you want it badly enough.Kill Your Friends arrives in the United Kingdom on November 6th but has no US release date yet.