'Finders Keepers' Trailer: Two North Carolina Men Fight Over An Amputated Foot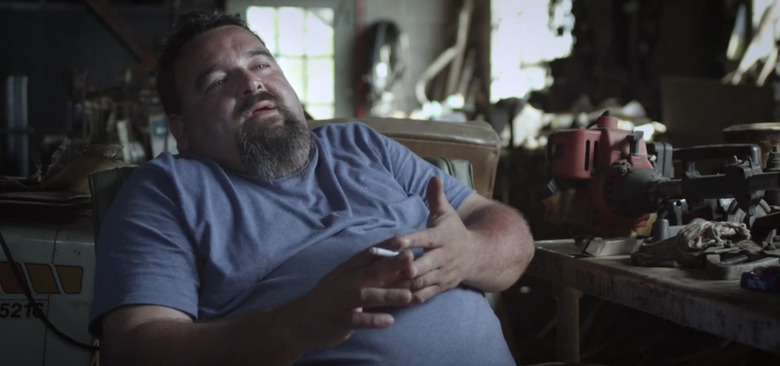 There's been plenty of great feuds on fights on the big screen in the relatively brief history of cinema, but few are as simultaneously strange and entertaining as Finders Keepers, the Sundance selected documentary that was one of our favorite movies from the indie film festival earlier this year, and also an honorable mention on our list of the best films from 2015 so far.
The film follows the surprising feud between two North Carolina men over a severed human foot. Shannon Whisnant found the foot inside a grill at a storage unit auction, and that makes him believe it's his, hoping to cash in on the item by letting people pay to see it. But then John Wood realizes that it's his foot that Shannon has, and he wants it back. If you're scratching your head, just watch the Finders Keepers trailer to see how this plays out.
Here's the Finders Keepers trailer from The Orchard:
As the trailer indicates, as strange and funny as this story is, there's a lot of heart here as these two men want this amputate foot for very different, very personal reasons. You couldn't write a movie with characters as unique and authentic as these two good ole boys, one desperate to get a little bit of fame and fortune, the other merely wishing he still had his father around, and a much better relationship with his mother.
What starts as a laughable weird story turns into a touching examination of two men looking for meaning in their life, and hoping that this amputated foot will help in some way.It's a stranger than fiction tale that Germain Lussier equated to being like the best episode of Storage Wars, which goes all the way to a battle on courtroom television Judge Mathis. But it certainly doesn't end there.
When his amputated leg is discovered in a grill sold at a North Carolina auction, John Wood finds himself at the center of a worldwide media frenzy. Believing the new-found attention to be his chance at doing some great things in an otherwise disappointing, wayward life, he's quickly swept up in the hysteria as the leg's enterprising buyer, Shannon Whisnant, then sues to regain its custody. But the stranger-than-fiction chain of events, fueling John's drug addiction and compounded by generations of his familial dysfunction, soon sets John on the streets and heading to his certain demise. Just in time, however, another twist in these fantastical occurrences gives John a final shot at becoming whole for the first time in his life.
Finders Keepers hits select theaters on September 25th.