See All Of Hasbro's 'Star Wars: The Force Awakens' Toys Coming Out On Force Friday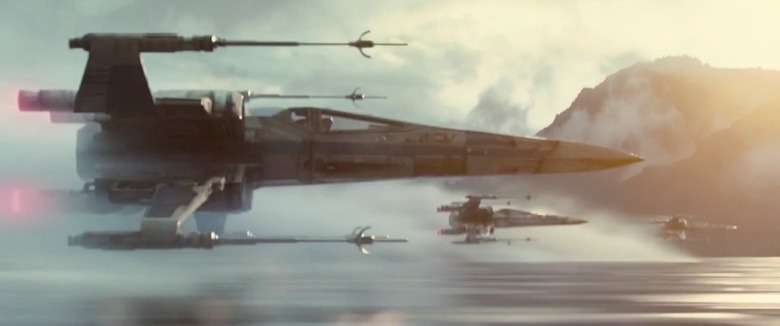 Hasbro has released a full catalog of Star Wars: The Force Awakens toys that are coming out on Force Friday, which takes place on Midnight on September 4th 2015. Most of the toys are pretty much spoiler free as it seems JJ Abrams and the creative team is limiting the early merchandising to mostly the first third of the movie. For instance, notice how the Rey and Finn figures are only available in "Jakku" versions. I'm sure they change outfits and look different throughout the film, but we're only seeing toys from the early scenes in the Force Awakens.
But there are a couple minor side characters shown and vehicles we have yet to see (most of which I believe were just created for the toy line, so they won't be featured in the movie), so proceed at your own risk of very very minor spoiler information. Hit the jump to see all the new Star Wars: The Force Awakens toys.
Star Wars: The Force Awakens Toys
The Hasbro Star Wars catalog appears to be an official release and not a early leak, although I have yet to receive one in the mail. The Hasbro Star Wars catalog embedded above was posted on imgur.com.
I love the idea of the Star Wars Blademasters, although some of the lightsaber hilts you can create with this toy system are ridiculous. Interestingly, in the normal Lightsaber line they appear not to be releasing Kylo Renn's crossword lightsaber, which seems like a mistake.
And while the new releases does contain Luke Skywalker, Han Solo, Princess Leia and Darth Vader figures, the character designs are clearly marked as either being from Star Wars Episode V: The Empire Strikes Back or Star Wars Episode VI: Return of the Jedi.
We do get to see a couple characters that haven't been shown in the marketing or images released thus far, such as Constable Zuvio, who we've already speculated about here, or Unkar's Thgug and Jakku Scavenger, but I don't think those figures reveal anything at all.
The armor up figures I don't expect to tell us anything about the film itself, as I'm guessing most of these armors are exclusive to the toy line.
What we do get a real glimpse at is new Star Wars vehicles, which again, could appear in the film or designs that might have been created just to sell more toys. The vehicles include a First Order Assault Walker that looks pretty cool, basically a smaller AT-ST design with the Stormtrooper exposed on top of the legs. Also an Elite Stormtrooper Speeder Bike, which I'm betting doesn't appear in the film. A First Order Snowspeeder, another one I'm not so sure about. Finn's Jakku Desert Landspeeder and Poe Dameron's landspeeder, both look to be vehicles just created for the toy line — but I could be wrong.
We've already seen Poe Dameron's Black X-Wing Fighter and the Special Forces TIE Fighter.
And that crappy looking remote control BB-8 will have to tide me over until Sphero releases their (hopefully) awesome BB-8 toy later this year (not yet officially announced).