'Star Trek Beyond' Set Video: New Starfleet Uniforms, A New Character, And More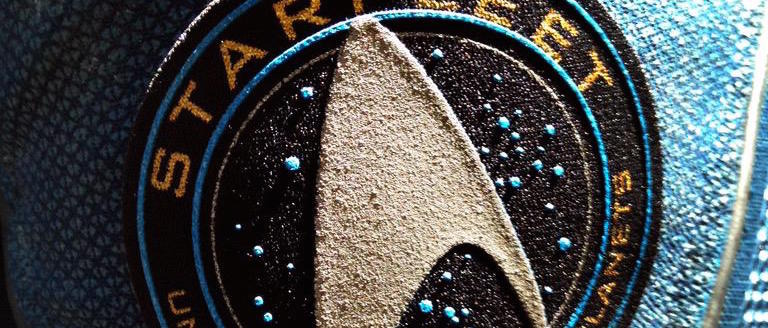 It looks like director Justin Lin is bringing some changes to the Star Trek franchise. A video from the set of Star Trek Beyond reveals Kirk (Chris Pine) in a redesigned Starfleet uniform. In addition, we get a glimpse of Sofia Boutella as a new character who appears to hail from an entirely new alien species. See the new Star Trek Beyond uniforms and character after the jump. 
ScreenCrush captured the video, which shows Pine and Boutella emerging from a spaceship. Hot on their heels are Scotty (Simon Pegg) and Chekov (Anton Yelchin). Pine and Yelchin are sporting new matching uniforms which consist of a black top under blue jackets with yellow trim. Scotty's high-necked red uniform, on the other hand, is not too dissimilar from his outfits in earlier films.
But the biggest surprise is Boutella. She seems to represent an entirely new alien species with white skin, white hair, light eyes, and black facial markings. Lin has spoken about before about how much fun he had "creating whole new worlds and species," and it's nice to finally get a peek at one of his creations. And while we still don't know much about who this character is or how she'll figure into the movie, it sure looks like she's on Kirk's side here.
(She looks a bit like the aliens from the opening of Star Trek Into Darkness, but the similarity is not exact.)
Pegg wrote the Star Trek Beyond script with Doug Jung. The film sends the Enterprise on their five-year mission, but plot details beyond that are being kept under very tight wraps. Shooting on Star Trek Beyond began earlier this summer in Vancouver.
Returning to the franchise along with Pine, Pegg, and Yelchin are Zachary Quinto (Spock), Zoe Saldana (Uhura), John Cho (Sulu), and Karl Urban (Bones). Boutella is one of several newcomers including Lydia Wilson, Joe Taslim, and Idris Elba (who plays the villain).
Star Trek Beyond opens July 8, 2016.