James Foley Offered 'Fifty Shades' Sequel [Updated]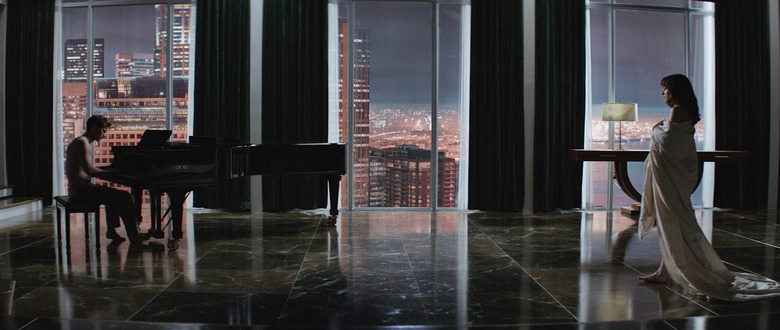 Update: Two weeks after this news first broke, Variety reports that Foley has been officially offered the job directing Fifty Shades Darker. Talks are reportedly beginning now. Whether this will be a two-fer deal, with Foley also set to direct the third film, remains to be seen. Original story follows.
Even as Fifty Shades of Grey was being released to theaters this past February, we knew that director Sam Taylor-Johnson wasn't likely to be back to direct the adaptation of the sequel novel, Fifty Shades Darker. There was talk of a power play on the part of novel author E.L. James, who reportedly wanted to write the sequel script herself, the better to keep it close to the novel. The screenwriting gig for the sequel went to Niall Leonard, who is married to James, but the director's chair for the sequel has remained open.
Now James Foley (House of Cards, Fear, Glengarry Glen Ross) has turned up as the likely Fifty Shades sequel director.
Deadline reports that Foley might end up directing not only Fifty Shades Darker, but also the potential third film, Fifty Shades Freed. The question seems to be whether Universal and Focus will want to shoot the sequels back to back. Deadline says that scripts are in, which suggests Leonard just scripted both movies.
It's worth noting that Dana Brunetti produces both the Fifty Shades films, and House of Cards, for which Foley has recently done a lot of work.
Doing the sequels back to back would make sense in a few ways. If you're E.L. James, it probably seems like a good plan to get both movies rolling while she still has a good degree of control. And for Universal and Focus it isn't a bad idea, as stars Jamie Dornan and Dakota Johnson could be locked in for both films.
If you're still wondering why these sequels seem like a big deal to the studio, Fifty Shades of Grey has made a big contribution to Universal's incredible box-office success in 2015, with a $94.4m four-day weekend opening, and a global take of $569m.
Fifty Shades Darker is set for release on February 10, 2017 and if things go according to plan Fifty Shades Freed will open on February 9, 2018.