See 'The Martian' Images And A Q&A With Matt Damon And Ridley Scott At NASA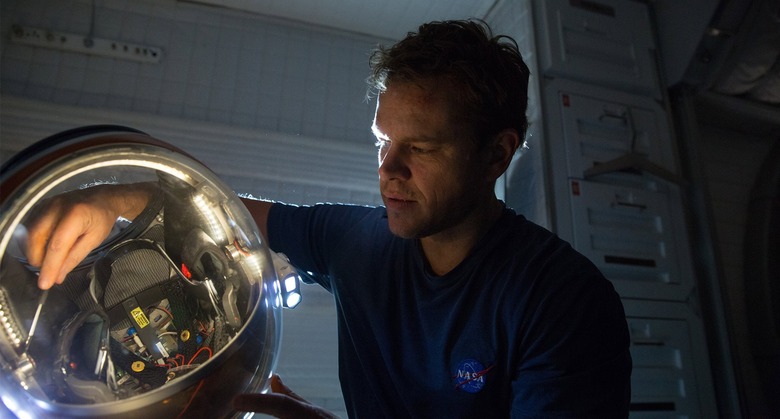 A new trailer for Ridley Scott's adaptation of the novel The Martian went online earlier this week, but as with the first trailer, this one seems to lean pretty heavily on details some viewers might prefer to get from the movie itself. But for those who want to see more from the film without having too many of the story's beats mapped out, we've got a new batch of The Martian images, mostly in high res, to show off the meticulous care that was put into the film's costumes and sets.
In addition, you can watch a short video shot earlier this week that condenses a Q&A about the film, featuring Matt Damon, Ridley Scott, author Andy Weir, and participants from NASA.
There's also this panel interview about the film, via Fox, which was conducted earlier this week at NASA's Jet Propulsion Lab. The small audience was shown just under an hour of the film, and this Q&A followed, addressing some questions about the film and giving everyone a bit of time to talk about their work on the story and/or its effectiveness.
The Martian arrives October 2. Jessica Chastain, Kate Mara, and Michael Peña play some of Watney's crewmates, and Sean Bean, Chiwetel Ejiofor, Jeff Daniels, Donald Glover, and Kristen Wiig are among those watching from Earth. Drew Goddard wrote the script based on the book by Andy Weir.
During a manned mission to Mars, Astronaut Mark Watney (Matt Damon) is presumed dead after a fierce storm and left behind by his crew. But Watney has survived and finds himself stranded and alone on the hostile planet. With only meager supplies, he must draw upon his ingenuity, wit and spirit to subsist and find a way to signal to Earth that he is alive. Millions of miles away, NASA and a team of international scientists work tirelessly to bring "the Martian" home, while his crewmates concurrently plot a daring, if not impossible rescue mission. As these stories of incredible bravery unfold, the world comes together to root for Watney's safe return. Based on a best-selling novel, and helmed by master director Ridley Scott, THE MARTIAN features a star studded cast that includes Jessica Chastain, Kristen Wiig, Kate Mara, Michael Peña, Jeff Daniels, Chiwetel Ejiofor, and Donald Glover.