See Concept Art From The 'Jurassic Park' Animated Series That Never Was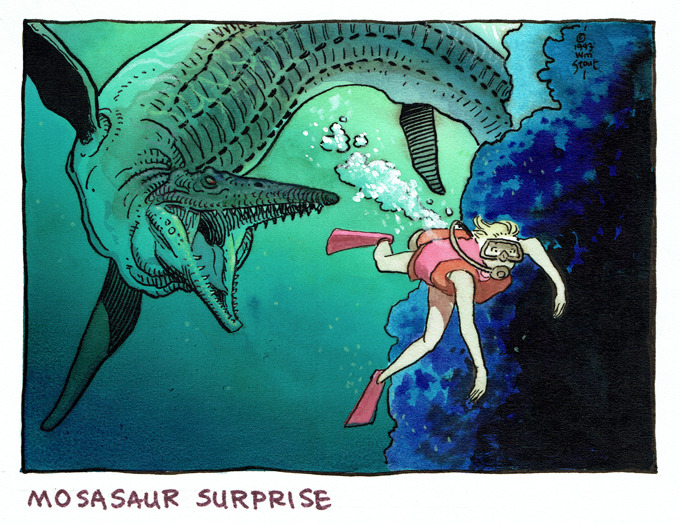 Amid a tsunami of tie-ins that included sequels, video games, toys, games, etc., the one thing the Jurassic Park franchise never got was an cartoon. But it wasn't for lack of trying. Artist William Stout has revealed there were once plans for a Jurassic Park animated series, described as a "mature" primetime show with a "graphic novel look."
Alas, Steven Spielberg never signed off, so we never got to see the show. But now thanks to Stout's concept art, we can dream about what might've been. See the Jurassic Park animated series artwork after the jump.
Stout shared this Jurassic Park animated series concept art on his website, along with some abandoned movie poster ideas for the original film.
Although I own a copy, I don't think this trailer is available anywhere.
Upon the success of Steven Spielberg's Jurassic Park movie, all kinds of ancillary projects abounded: toys, games, novelties, apparel, etc.
Towards the end of all of this merchandising I got a call from artist Will Meugniot, asking if I'd be interested in designing a Jurassic Park animated series. This was not going to be a kiddy show (although kids of all ages, including myself, could enjoy it). They wanted the show to be a mature prime time series with top writers and state-of-the-art television animation augmented with quite a bit of CG animation. Universal Cartoon Studios wanted a "graphic novel look" to the series. I came in, showed my portfolio and was hired.
We made a trailer to communicate the look and feel of the series, also showing how we would combine computer animation with traditional animation. All we needed was Spielberg's approval.
I heard through the grapevine that he never bothered to watch what we had done. By that time the word was out that he was burnt out on Jurassic Park merchandising and all of the film's commercial exploitation. So, it never got made.
Too bad.
Too bad indeed. Stout's artwork is gorgeous, and captures both the wonder and the terror of the original film. Of course, with Jurassic World's record-breaking box office run this summer, it may just be a matter time before someone gets the idea to reattempt an animated series.