Dwayne Johnson Starring In Disney Ride Movie 'Jungle Cruise'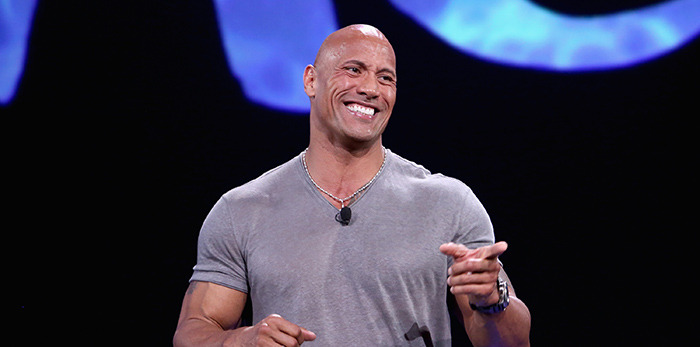 Dwayne Johnson isn't just doing a voice for one of the main characters in the Disney Animation film Moana; he said at D23 that one of his main career goals was to work in Disney movies, and now he's making the bounce to live action. The Rock is also going to star in the latest ride-to-movie project Jungle Cruise.
The film, based on a ride that was in place when Disneyland first opened its doors in 1955, has been in development for a few years, but bringing The Rock on board indicates some new energy for the old idea.
THR reports, and there have been some changes behind the scenes in the years this has been developing. Back in 2011 David Hoberman and Todd Lieberman, who produced The Fighter, were the producers, and Roger S.H. Schulman was writing. (Tom Hanks and Tim Allen were going to star in that version.)
Now the producers are John Davis and John Fox of Davis Entertainment (The Man From U.N.C.L.E.) and John Requa and Glenn Ficarra (Focus, Crazy Stupid Love) are scripting.
While the old incarnation of the movie was to be set in the modern day, this version is said to be a period piece.
No director is on board right now. Here's a description of the long-running ride, which even employed John Lasseter as a skipper for some time.
Set sail on a 1930s tramp-steamer tour in the untamed waters of the Mekong, the Amazon and the rivers of Africa. Will your vessel be Sankuru Sadie or Senegal Sal, and will she survive the 9-minute Jungle Cruise intact?
Mother Nature is at her wildest as you pass Audio-Animatronics animals including the Bengal tiger, king cobras, elephants, lions and hyenas in their native habitats. Whether they're feasting on their prey, scaring trespassing humans or splashing water, the animals will keep you on your toes.
As your skipper leads you ever deeper into the jungles past hare-brained explorers and ancient ruins, be prepared for some surprises along the way. Are there really hippopotamus and headhunters lying in wait? Your skipper's sure to regale you with humorous tales of danger.