Miles Teller Bouncing Back From 'Fantastic Four' With PTSD Drama 'Thank You For Your Service'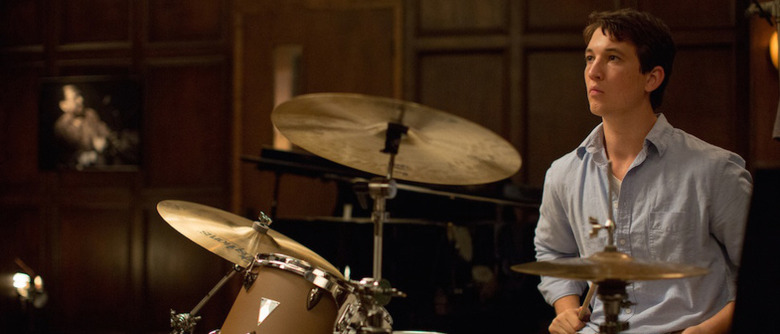 Fantastic Four was an undeniable low point in Miles Teller's career, but he's already brushing himself off and moving on with an intriguing new role. He's in talks to star in Thank You For Your Service, a PTSD drama from American Sniper writer Jason Hall. Get details on the Miles Teller Thank You For Your Service casting after the jump. 
Based on the nonfiction book published by David Finkel in October 2014, Thank You For Your Service follows three American soldiers who struggle to readjust to civilian life after coming home from Iraq. Memories of war continue to haunt them long after they've left the battlefield and returned to their families.
Thank You For Your Service marks the directorial debut of Hall, who also wrote the script. Originally the plan was for Steven Spielberg to direct, with Daniel Day-Lewis possibly starring, but Spielberg reportedly suggested Hall helm the movie himself after reading the screenplay.
Hall touched on similar issues of war-induced post-traumatic stress disorder in Clint Eastwood's American Sniper, which earned him an Oscar nomination and a spot on the 2013 Black List. His other credits include the corporate thriller Paranoia and the Ashton Kutcher dramedy Spread.
Teller is coming off of Fantastic Four, as mentioned above, but luckily doesn't seem to be hurting too much in its wake. It helps that he'd already built up some serious cred thanks to films like Whiplash and The Spectacular Now, and also that he's got a wide array of promising films coming up.
He'll be seen next year in the Divergent sequel Allegiant – Part 1 (after being the only good part of the installment that came in between, Insurgent), Todd Phillips' comedy Arms and the Dudes, and the boxing biopic Bleed for This. Beyond that, he's developing The Life and Times of the Stopwatch Gang, and is set to star in Marc Webb's The Only Living Boy in New York, which just added Rosamund Pike and Jeff Bridges.
[Source: TheWrap]