Ridley Scott's 'Prometheus 2' May Be Delaying Neill Blomkamp's 'Alien 5'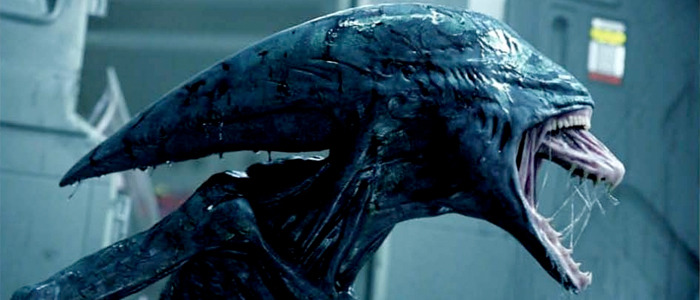 Ridley Scott's Prometheus 2 finally seems to be on track, with shooting expected to begin in January 2016. But there's been no word yet on a timetable for that other Alien movie, the one being directed by Neill Blomkamp. Turns out Prometheus 2 might be the reason why.
Rumor has it 20th Century Fox is holding off on Blomkamp's Alien 5, which Scott is also producing, until Prometheus 2 is done. More about the Prometheus 2 Alien 5 delay after the jump. 
While it's exciting that both a Prometheus 2 and an Alien 5 are in the works, we've been wondering how Fox and Scott would handle developing both at the same time. Now Bloody-Digusting has word from a source that Scott's plan is to put off Alien 5 until he's done with Prometheus 2:
Alien 5 is still very much in the works, as Fox remains hot on the idea. Blomkamp continues to work on the script (only an outline existed previously) and refine the tale he is telling. Ridley Scott is still producing, but has insisted on Prometheus 2 being made first.
Neither Prometheus 2 nor Alien 5 has a release date yet. But if Prometheus 2 shoots in early 2016, we can likely expect it out sometime in 2017. Which means, if this rumor is true and everything goes as planned, that Alien 5 will shoot in 2017 and come out around 2018.
While fans will surely be disappointed to have to wait, there are some possible silver linings. The delay gives Blomkamp more time to develop the script, which is a good thing in theory.* Plus, it'll help him and Sigourney Weaver work out a schedule to avoid conflicting with Avatar 2, also produced by Fox.**
Oh, and speaking of developing the script, the source also addresses Michael Biehn's recent statements that Alien 5 will essentially ignore Alien3 and Alien: Resurrection. "It's basically far too early to tell on that front right now," they said. Good thing Blomkamp's got all that extra time to figure it out now.
* In practice, we should probably be alarmed he's working on the script at all, after the messes that were Chappie and Elysium. But that's another story.
** Again, in theory. That's assuming Avatar 2 remains on track to open in 2017, which, considering how many times it's been pushed back, is a pretty big assumption.