Anne Hathaway Is Coming To TV With 'The Ambassador's Wife'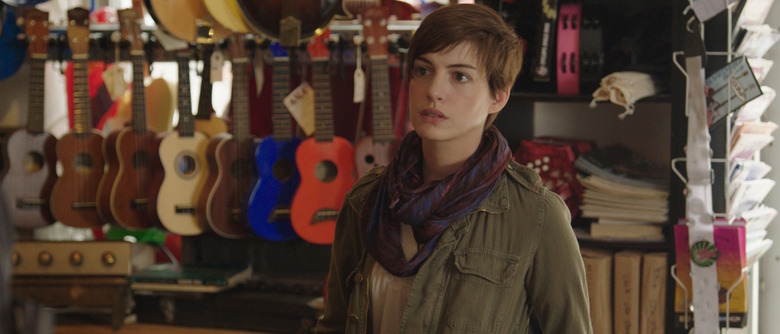 It's becoming increasingly common for filmmakers and actors to jump between TV and film — even Matthew McConaughey and Scarlett Johansson are doing it these days. And yet TV hasn't quite shed its reputation as film's less glamorous sibling.
Case in point: It's still kind of surprising to hear Anne Hathaway, a young Oscar winner at the height of her career, is headed to the small screen. She'll star in The Ambassador's Wife, a limited series based on the novel by Jennifer Steil. Get details on the Anne Hathaway TV project after the jump. 
The Ambassador's Wife follows an American artist named Miranda, who marries the British ambassador to the fictional Middle Eastern nation of Mazrooq. When Miranda gets kidnapped, both she and her husband must face tough choices if they are to be reunited. Steil's book is drawn from real-life experiences as the wife of the former British ambassador to Yemen.
The project comes from Entertainment One and the Mark Gordon Co. The Ambassador's Wife doesn't have a network or distributor yet, but given the talent involved it's sure to attract a lot of attention. In addition to starring, Hathaway will also serve as a producer. No writers have been announced.
Hathaway is coming off of Christopher Nolan's Interstellar with McConaughey. (Maybe he's the one who talked her into doing TV?) Next up for her are Nancy Meyers' The Intern with Robert De Niro, and Disney's live-action Alice in Wonderland sequel. She's additionally attached to projects by Joe Wright and Nacho Vigalondo.
Although Hathaway has made her name as a movie star, her professional screen career actually began with a short-lived Fox dramedy called Get Real. Her co-star on it was Jesse Eisenberg, also in his first onscreen role. Since then she's returned to the small screen for guest spots on The Family Guy and The Simpsons, the latter of which netted her an Emmy.