Rebecca Ferguson In Talks To Join Hitchcockian Thriller 'The Girl On The Train'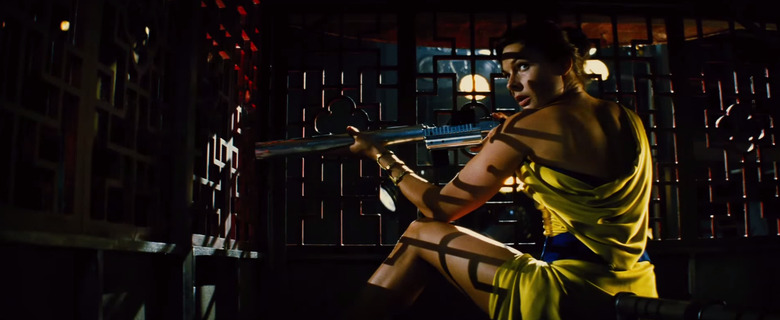 After the opening of Mission: Impossible – Rogue Nation, the major question we all had was "how long do we have to wait for Rebecca Ferguson's next movie?" In fact, that next movie will probably be Florence Foster Jenkins, with Meryl Streep and Hugh Grant, directed by Stephen Frears.
But the film after that won't be Gambit, as Ferguson has reportedly dropped that possible gig for something heavier. Ferguson is in talks to join the cast of The Girl on the Train, which Tate Taylor (The Help) will direct based on the novel by Paula Hawkins.
Given that the novel is frequently praised with comparisons to the work of Alfred Hitchcock, and that Ferguson was central to Rogue Nation's own Hitchcock homage sequence (above) this all seems like a pretty tidy deal.
Deadline reports that Ferguson joins another of Tom Cruise's recent great co-stars, Emily Blunt, in the movie, with a third lead yet to cast.
Here's an account of the novel:
Rachel takes the same commuter train every morning. Every day she rattles down the track, flashes past a stretch of cozy suburban homes, and stops at the signal that allows her to daily watch the same couple breakfasting on their deck. She's even started to feel like she knows them. "Jess and Jason," she calls them. Their life—as she sees it—is perfect. Not unlike the life she recently lost.
And then she sees something shocking. It's only a minute until the train moves on, but it's enough. Now everything's changed. Unable to keep it to herself, Rachel offers what she knows to the police, and becomes inextricably entwined in what happens next, as well as in the lives of everyone involved. Has she done more harm than good?
Emily Blunt will play the film's version of Rachel, while Ferguson will play, Anna who has close ties to Rache's life. There's a lot that isn't in that book jacket-copy synopsis above, including truths about the couple Rachel fantasizes about, and problems in her own life.
But we can wait to learn more about the film's version of all that. First we'll see who is cast as "Jess," aka one half of the couple Rachel sees every day, not to mention a couple of the major men in the movie. With this cast in place so far, there's a good chance they'll attract more great talent.