Biopics: Jennifer Hudson To Play Aretha Franklin, Laura Linney Joins Captain Sulley Movie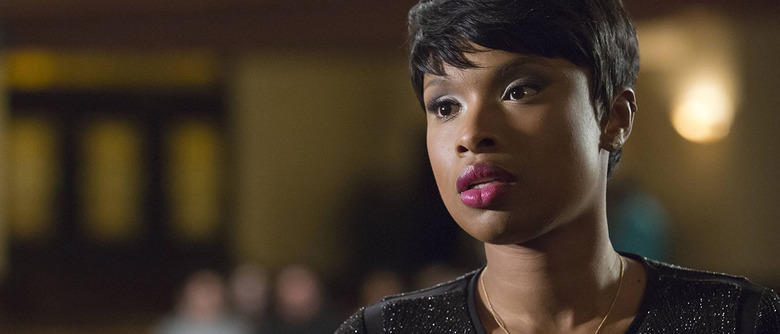 Two prominent actresses have just nabbed a couple of juicy roles in a pair of high-profile biopics. Jennifer Hudson is in talks to play Aretha Franklin in an upcoming biopic, as has long been rumored, while Laura Linney is joining Tom Hanks in Clint Eastwood's Sully Sullenberger movie.
Get details on the Jennifer Hudson Aretha Franklin casting and the Sully Sullenberger Laura Linney news after the jump.
Let's start with the Aretha Franklin biopic. TheWrap reports Hudson is in discussions for the movie, but stresses that no deal is in place as of yet. The film is being produced by Scott Bernstein, who's riding high off the recent success of another musical biopic, Straight Outta Compton.
With 18 Grammys and over 75 million records sold to date, Franklin is widely considered one of the best and most successful artists of all time. The film about her life has been in the works for several years now, with Franklin's blessing.
The so far untitled movie will follow the American icon through the '60s and '70s, chronicling her rise to fame as well as her relationship with abusive ex-husband Ted White. Many of Franklin's biggest hits came from that period, including "Respect" and "(You Make Me Feel Like) A Natural Woman."
There's no word yet on when the film will shoot, but Hudson seems like a natural fit. Here she is performing an Aretha Franklin tribute at the 2014 BET Honors:
Moving on to the Sullenberger project: THR reports Linney has joined the cast of the as-yet-untitled movie. She is a three-time Oscar nominee who previously worked with Eastwood on Mystic River and Absolute Power.
In 2009, Captain Chesley "Sully" Sullenberger became a national hero safely landed an Airbus A320 with 155 passengers on the Hudson River after a flock of geese took out both engines. In the film, Sullenberger will be portrayed by Hanks. Linney will play his wife, and Aaron Eckhart his co-pilot, First Officer Jeff Skiles.
Between three-time Oscar nominee Linney, two-time Oscar winner Hanks, and four-time Oscar winner Eastwood, the Sully movie already looks like a shoo-in for an Oscar nomination. On paper, anyway — we would've said the same thing about J. Edgar and look how that turned out.
Todd Kormarnicki is writing the script based on Sulley's life as well as his 2009 memoir Highest Duty: My Search for What Really Matters. In addition to directing, Eastwood is also producing with Tim Moore, Allyn Stewart, and Frank Marshall. The project is set up at Eastwood's favorite studio, Warner Bros.