Star Wars Bits: 'Doctor Who' Joins 'Star Wars' Project? Jar Jar Binks Is Disney's Fault? Rogue One, McQuarrie, Struzan And More

There was a ton of Star Wars news coming out of D23 Expo 2015, and if you missed any of that from the Star Wars Anthology films getting new branding, to the Star Wars: The Force Awakens poster by artist Drew Struzen, to the first photo and cast from Star Wars: Rogue One, to the director of Star Wars Episode 9, to Star Wars Lands announced for Disney theme parks, head over to our D23 2015 news roundup. But there is a lot of Star Wars tidbits we missed over the last few days, so lets dive in. Here is what to expect in today's Star Wars Bits:
Tom Baker, the fourth Doctor Who, has been cast in a Star Wars project, but which one?
George Lucas blames a Walt Disney creation for Jar Jar Binks.
According to JJ Abrams, who is the Ralph McQuarrie of Star Wars: The Force Awakens?
Which monumental Star Wars set has been recreated for Star Wars: Rogue One? (actually, not much of a spoiler)
Ralph McQuarrie's Influence on Star Wars Land 
Why Star Wars: Battlefront won't have a single player campaign mode.
Is Drew Struzan's Force Awakens D23 Expo poster the film's official poster? Will there be another?
All that and more in today's edition of Star Wars Bits. Hit the jump now.
The header image is an incredible Star Wars: The Force Awakens mural in Condesa, México, created for Street Art Chilango by artist Andrik Noble.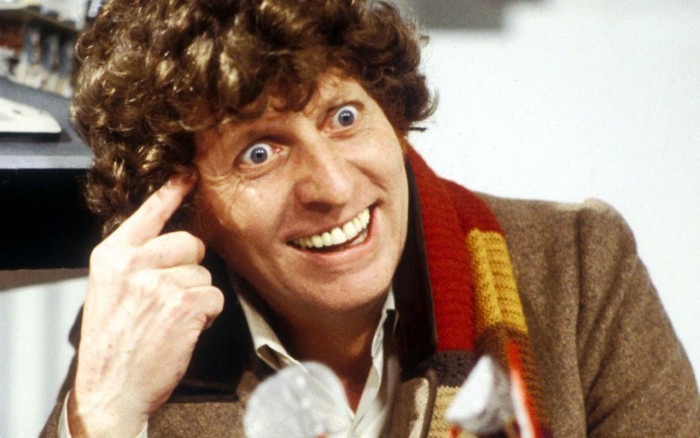 British actor Tom Baker (whom played the Fourth Doctor) revealed at a recent Doctor Who convention that he will lend his voice to a future Star Wars project:
"I'm going to be in this new Star Wars thing, you know? I'm going down to record some voices for this new character they've created for me, very soon."
But what Star Wars project is he possibly involved with? He didn't say, but I'd take a stab that it is either Star Wars Rebels or an unannounced video game project. While it is possible that he could be playing a non-human character in Rogue One or Star Wars: The Force Awakens, it seems unlikely.
4 people left to get the Struzan with a purchase of a metal print! #D23, next to pillar b20 pic.twitter.com/69lLzaGtSF

— Gallery1988 (@Galleries1988) August 16, 2015
Over the weekend at D23 Expo 2015, JJ Abrams and crew revealed a new poster for Star Wars: The Force Awakens by legendary poster artist Drew Struzan. While many people have misreported that this is the film's official one sheet, I have it on good authority that the poster was just a D23 Expo exclusive. In fact, you won't see it any where else. They printed 7800 mini posters to hand out to those fans in attendance at the Disney live-action films presentation and they'll never print another one.
Even more exclusive is the full size poster that was printed on demand to 100-150 fans who were lucky enough to visit Gallery 1988's Art Awakens exhibit on the show floor. The full size poster prints took about 4 minutes each to print, which explains the very low edition number. That might be the most limited edition officially released Drew Struzan Star Wars poster ever produced.
That said, will Drew Struzan be making a more official one-sheet for the film? The retired poster artist hinted on Instagram that there could be another, saying he "can't wait to show you what's next." But this tweet from Gallery 1988 suggests that another one won't be coming.
Great place for a ministerial visit. The Death Star – the set of next #StarWars film at @PinewoodStudios to see benefits of film tax credits

— David Gauke (@DavidGauke) August 13, 2015
Parliament member David Gauke tweeted about a recent visit to the set of Star Wars: Rogue One which is in production now at Pinewood Studios in London. The tweet mentions a new Death Star set, not any kind of spoiler as the film's longline is about a group of resistance fighters who are trying to steal the Death Star plans. But its cool to know that the Death Star exists right now on a London soundstage.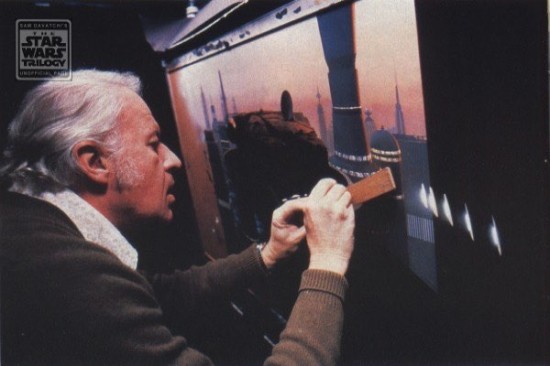 One of the Entertainment Weekly pieces we missed late last week involved the question: who is the Ralph McQuarrie of Star Wars: The Force Awakens? We have chronicled how the legendary Star Wars concept artist is still having a huge influence on the latest installment of the saga, long after his death. Director JJ Abrams answers the question of who fills the McQuarrie spot for the new film:
"I was incredibly blessed to work with Rick Carter, who – beyond being a brilliant production designer – is a font of imagination and associations," Abrams says, without having to think long, "He is able to make connections to things that no one else can see, and he has such a trove of references and life experience and images and design ideas." Abrams described Carter as "a giddy, excited genius, and he was a muse for me in that regard. Not just visually, but also spiritually, and he was just a terrific partner in crime."
Abrams also acknowledged the importance of Ralph McQuarrie's legacy, noting "how critical he was in creating the aesthetic of what we all know is Star Wars". In fact, Ralph McQuarrie's influence could even be found in the Star Wars Land concept art that was revealed over the weekend:
McQuarrie designs 'hidden' in 'Star Wars'-land concept pic.twitter.com/TfHLHwgwOt

— Sompeetalay (@Sompeetalay) August 15, 2015


 Rick Carter of course just won an Academy Award for his production design in Steven Spielberg's Lincoln, and he previously picked up an Oscar for this week in James Cameron's Avatar.  The frequent Spielberg and Zemeckis collaborator worked on Jurassic Park, Forrest Gump, the Back to the Future sequels, Cast Away, and A.I. Artificial Intelligence.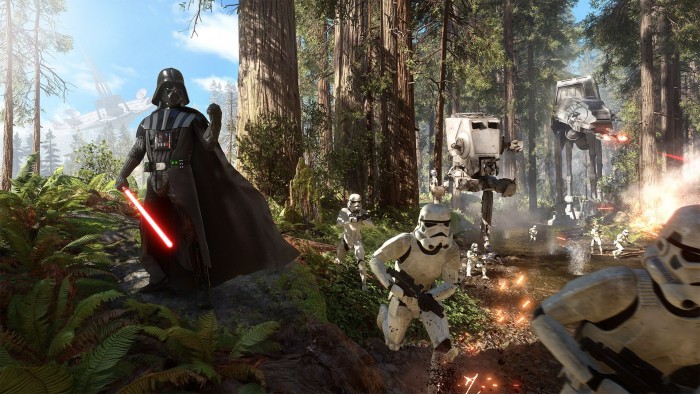 While talking to Gamespot, EA's Peter Moore explained that the reason Star Wars: Battlefront won't have a single player campaign. When asked if games with single player campaigns sell better than games without one, Moore said:
"So, there's two phenomena with that statement. The first is that yes, you might be right. The second is that very few people actually play the single-player on these kinds of games. That's what the data points to."...  "Well, you never kick yourself about these things. You make a decision, years out, and you plan for what the world looks like when a game ships in two or three years. That's about the intuitiveness about the executive producer, and his or her vision for the game. Between when a dev team starts work on a game, and when it finishes, the world becomes a different place."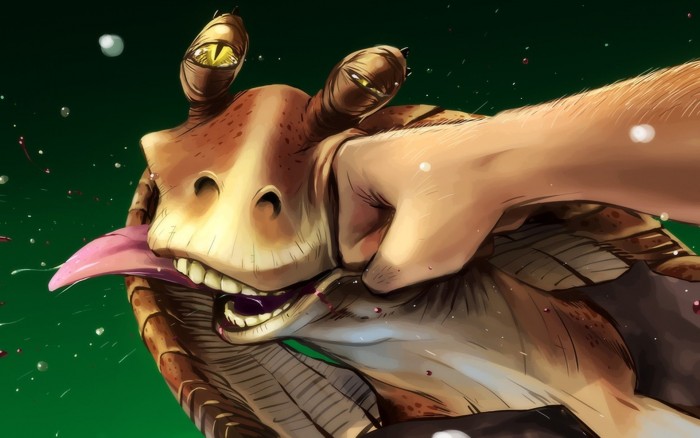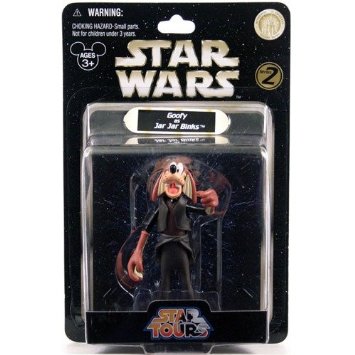 While it almost seems like Disney wants to pretend the Star Wars prequels don't exist, Star Wars creator George Lucas won't shut up about his creations. The Star Wars creator was honored at D23 Expo 2015 in Anaheim where he was presented with the Disney Legend Award. During his acceptance speech, Lucas admitted that the Star Wars: The Phantom Menace character actually was inspired by a Walt Disney creation.
"I can't even begin to tell you how much of an influence Disney has had on me. I will say one secret that nobody knows; not many people realize that Goofy was the inspiration for Jar Jar Binks... I know that you will look at him differently now. It's pretty obvious, actually, but, um, I love Goofy and I love Jar Jar."
I'm pretty sure Bob Iger was probably clenching his teeth when Lucas said this. Interestingly enough, Disney did produce a Goofy Jar Jar Binks action figure which was sold at Star Tours in Disney theme parks (see image right).