Warner Bros. Sets Animated 'Scooby-Doo' Movie For 2018, More Hanna-Barbera Movies Coming?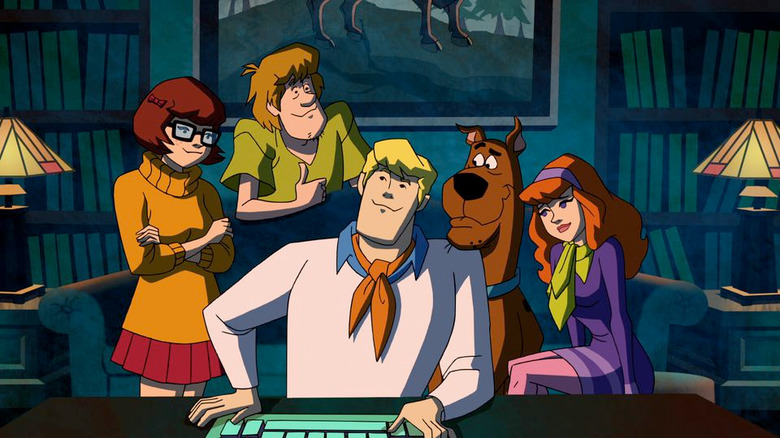 Last summer we learned that Warner Bros. was putting together a new big screen version of Scooby-Doo, but at the time it wasn't clear if it would be another live-action/CG hybrid or if the studio would return to Hanna-Barbera cartoon roots with an animated feature film. Now we have our answer.
The animated Scooby-Doo reboot feature will be an animated film from the Warner Animation Group banner, which had quite a big debut with The LEGO Movie, and they've brought in some promising talent with a history bringing Scooby-Doo to life in animated form.
The Wrap reports Tony Cervone will be directing the animated movie, and that's someone Scooby-Doo fans should be well-acquainted with because he worked on the 2010 incarnation of the show, Scooby-Doo! Mystery Incorporated. That version of the show (pictured above) lasted two seasons for a total of 52 episodes. It was the first version of Scooby-Doo not to be first-run on Saturday mornings, and by episode count, it's actually the longest running Scooby-Doo series to date.
You may be surprised to hear that this 11th iteration of Scooby-Doo was actually pretty well-received. One writer at The AV Club even put it on their own lists of the Best TV Series of 2012. The series actually added to the back story of Mystery Incorporated, including giving the company a full history with previous young mystery-solvers teaming with animal companions, formalizing romances between Daphne and Fred as well as Velma and Shaggy and it was supposedly chock full of geeky references for fans of all kinds.
It's not clear if the animated movie will take any of those elements and incorporate them into the big screen story, but having someone who worked on that series take on this feature film sounds like a pretty smart move for producers Charles Roven and Richard Suckle to make. They previously brought the live-action adaptation starring Freddie Prinze Jr, Sarah Michelle Gellar, Matthew Lillard and Linda Cardellini to the big screen, and though they weren't all that well-received, they're interested in trying again in a different way. Also producing the film is Allison Abbate, of Fantastic Mr. Fox and The Corpse Bride.
The script is coming from writer Matt Lieberman, who previously wrote a straight-to-video Dr. Dolittle sequel, and is also responsible for the Short Circuit reboot script that's still in development.
In addition, Justin Kroll at Variety threw out some interesting tidbits about other Hanna-Barbera properties that may be on the way. With Scooby-Doo getting a release date, we might be hearing about new big screen attempts at The Flintstones, The Jetsons and Tom & Jerry sometime soon too. But that's not all.
Supposedly Warner Bros. is interested in possibly creating a sort of Hanna-Barbera big screen universe, not unlike what they're doing with LEGO properties following the success of The LEGO Movie, as well as the developing DC Comics universe. Here's what Kroll wrote on Twitter:
First, I'm hearing WB is toying to make a push for delivering a type of Hanna-Barbera universe like they are with DC and Lego

— Justin Kroll (@krolljvar) August 17, 2015
Besides SCOOBY DOO, expect news on TOM AND JERRY and FLINTSTONES movie and possibly a JETSONS movie coming out soon now that SCOOBY is dated

— Justin Kroll (@krolljvar) August 17, 2015
Since SCOOBY is an animated feature, don't know if these films will have cross-over compatibility like in DC universe

— Justin Kroll (@krolljvar) August 17, 2015
Considering all the drastically different time periods between at least three of these properties, any crossover to create a big universe for these characters seems like it would be hard to achieve without bringing time travel or portals into the equation. Of course, it's not like there isn't a precedent for this kind of thing since The Jetsons and The Flintstones have met before. We'll keep our ear to the ground to see how this plays out.
Otherwise, unfortunately for Scooby-Doo fans, we'll be waiting awhile to see this movie, because it won't hit theaters until September 21st, 2018.
Anyone out there interested in another Scooby-Doo movie?