Watch A Clip From 'The Lion King' Sequel 'The Lion Guard: Return Of The Roar'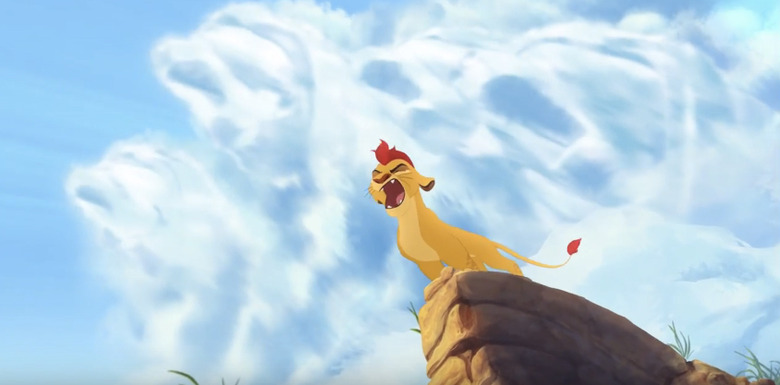 Just last week, we got a first look at the forthcoming Disney Channel TV movie and animated series kick-off The Lion Guard: Return of the Roar. An extended sneak peek of the TV movie portion of this follow-up debuted at D23 this weekend, and it's now available for you to check out.
In The Lion Guard clip, we see Simba and Nala's second-born cub Kion (voiced by Max Charles of Peabody & Sherman) having some fun with his friends in the Pride Lands, but then he's forced to show why he's been tasked with being the protector of his home turf when his best friend Bunga, a feisty honey badger, gets into some trouble with some hyenas.
Here's the clip from The Lion Guard straight from Disney Channel:
This is clearly geared towards kids, as most of Disney's fare is, and it doesn't seem to be quite as mature as the feature film predecessor, though the animation is very pretty. However, Kion is clearly a more experienced and brave cub than Simba was in The Lion King, which makes for a much different dynamic between him and the supporting characters. But I'm sure he still has some lessons to learn in his new post.
Speaking of which, Kion has a whole group of friends surrounding him to help out. In addition to Bunga (voiced by Joshua Rush), there's also the intellectual egret Ono (Atticus Shaffer), confident cheetah Fuli (Diamond White), and friendly hippo Beshte (Dusan Brown).
In addition, there are returning characters from The Lion King, including Rafiki (Khary Payton), Timon (Kevin Schon) and Pumbaa (Ernie Sabella). We also just recently learned that Rob Lowe and Gabrielle Union will be voicing Simba and Nala, with James Earl Jones popping up occasionally as Mufasa, who has interacted with Simba from the afterlife before.
Howy Parkins directs the TV movie, and Ford Riley serves as executive producer with that new music you hear provided by Christopher Willis and Beau Black. It's not quite as powerful as The Lion King music from Elton John and Tim Rice, but few soundtracks can match that kind of greatness.
This looks like it'll be a fun series for kids to check out, and if for some reason their parents haven't introduced them to the greatness that is The Lion King, then there's no better time to sit down and spend some time with the family.
The Lion King: Return of the Roar debuts on Disney Channel in November, and a full fledged television series will follow in January of 2016.